THE TRIBUNE MAGAZINES
On alternate Mondays

On Sundays
On Saturdays

IN PASSING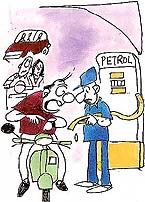 Be quick, before the government announces another hike in petrol prices!

by Sandeep Joshi
Fiscal reforms irreversible: PM
New Delhi, October 17
Prime Minister Atal Behari Vajpayee today called for a broad-based approach towards terrorism and religious extremism while maintaining that India's economic reform process was irreversible.



Nation page: Mahathir takes dig at US hegemony


In video(28k, 56k)


Prime Minister Atal Behari Vajpayee with FICCI president R. S. Lodha at the opening ceremony of the India-ASEAN trade summit in New Delhi on Thursday.
— PTI photo
Plot to kill Advani: charges framed
Mumbai, October 17
A Sessions Court today framed charges against six members of the Dawood Ibrahim gang, facing the charge of criminal conspiracy to kill key politicians, including Deputy Prime Minister L.K. Advani. The gangsters were charged with an offence under Section 121-A of the IPC, a stringent law regarding waging war against nation.


A case of mistaken identity
Lynching of innocent Dalits in Jhajjar
Chandigarh, October 17
It was a case of mistaken identity which led to the lynching of five innocent persons by a mob in Jhajjar district on Dasehra day. The mob mistook the victims, who were Dalits, for cow slaughterers. Preliminary investigations into the shocking incident suggest that the victims were, in fact, traders of animal skins, according to highly placed sources.
CCS okays troop withdrawal
October 17, 2002

Ultimatum to Cong, PDP
October 16, 2002

Cong, PDP adamant
October 15, 2002

J&K poll turning point: Advani
October 14, 2002

Congress, PDP talks make some headway
October 13, 2002

Independents hold key
October 12, 2002

Voters reject NC; Omar humbled
October 11, 2002

Copters, jawans tighten cordon
October 10, 2002

Voters defy the bullet
October 9, 2002

15 Independents float party
October 8, 2002