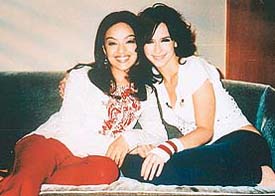 Kim with Jennifer Love Hewitt: Lifeís a party
Kimís 30-minute one-on-one, specially shot in Los Angeles, has made her one of the more popular VJs whose tryst with Channel (V) reads like a whirlwind affair. Much like Ruby Bhatia she did most of her growing up in Canada.
In 1998, she won the 1998 Miss India Canada pageant and one of the prizes was a ticket to Mumbai. "I came here to explore my roots," says Kim, who got a call from the channel to come and audition. And before she knew it, her holiday had turned into a full-time job!
Today, time is a rare commodity in Kimís life. If isnít her VJ shoots that keep her busy, it is music videos and commercials. And then there is Ďhi-lifeí to be lived that comes as a part of being a VJ ó parties, fashion shows, movie premieres.
"The best thing I like about the job is travelling and meeting people," says Kim, for whom "being a VJ is like being an icon for a generation of young, hip and very aware people."
Real-life thriller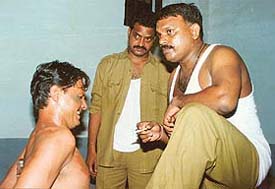 Haqeeqat: Fodder for a new Bollywood thriller
Itís art imitating real life twice over. Or rather, Bollywood leaning on the small screen for a true life crime caper. The recently released Dino Morea-Bipasha Basu thriller, Gunah has been inspired by an episode of Haqeeqat aired every Tuesday 8.30 p.m. on Sahara.
The show anchored by Mahesh Bhatt is based on stories of human rights violations and police atrocities. The short stories are dramatised versions of cop-related violence against the common man.
In one episode, a cop confesses to a fake encounter where he killed a journalist two decades ago. He says that the guilt has been weighing him down and he wanted to clear his conscience.
So moved was Bhatt with the true story that he decided to make a film titled Encounter that was later changed to Gunah. Dino Morea plays the son of the journalist who was killed in the fake encounter in Uttar Pradesh. The film also stars Bipasha Basu, Ashutosh Rana and Irfan Khan.
"Itís a heart-rending story that had the potential of a thriller. So we decided to make a film of it," says Bhatt, who has been doing a splendid job of anchoring the award-winning show that has put a number of cops on the high road to justice ó at least on the screen.
Prime time crime time
If you didnít have your eyefuls and earfuls with crime series like Avinash IPS and Krishna Arjun, hereís yet another one that recently aired its hundredth episode. You may be forgiven if you thought this was CID, the only watchable thriller. No, it is the little known Hellow Inspector on DD Metro, Tuesday to Saturday at 8.00 p.m.
Produced by Sri Adhikari Brothers, Hellow Inspector has been constantly on the top five programmes on the channel, as per the TRPs provided by TAM. This is the first time ever that daily crime show has completed 100 episodes on DD Metro.
Though the performances may sag at times, the storyline of most of the episodes keeps interest alive. In fact, there are cliffhanger situations and rousing suspense in many episodes, making them completely intriguing.
Had it been done on a more professional scale, Hello Inspector would have given a serious run to CID. But that would have meant more than just a compelling script.
Revive & thrive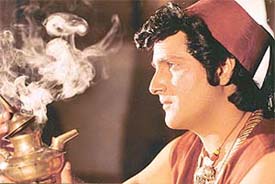 Alif Laila: Season of re-runs
Religious epics have done it over and over again. So have hit shows like Buniyaad, Hasratien, Hum Paanch. Insiders call it re-purposing a show once it has had its initial successful showing. The idea is to squeeze as much out as much as possible.
Years after its first run, Sabe TV is having a successful run of Alif Laila that first ran on Doordarshan. Star Plus too is airing Sea Hawks the high seas drama, Saturday at 7 p.m.
Re-runs have been very popular in the west. Major channels re-package old programming and air them liberally. Hereís Lucy and Yes Minister are prime examples.
According to Kelsey Grammer, the Emmy-winning star of Frasier and Cheers, "No matter what fancy name you give it, the idea behind these re-runs is to make money. Thatís the bottomline."
Which explains why Indiana channels too seem to be learning to thrive on re-cycling. Tune into any leading channel and chances are you would see one of the oldies again!
Elephantine tour
Follow Caroline Caseyís colourful journey through southern India and witness her relationship with Bhadra, a friendly but sometimes eccentric female elephant in Elephant Visions on the National Geographic Channel on October 26 at 7 p.m.
Caroline and Bhadraís adventures make compelling viewing: unusual characters, chaotic festivals, arcane rituals and heartbreaking eye camps, where thousands of visually impaired patients come for treatment.
In spite of her partial blindness, Caroline learns how to control, feed, wash and communicate with Bhadra.
Elephant Vision is the story of courage, pain and the unfolding relationship between an extraordinary woman and a charmingly unpredictable elephant. A must-see for adventure lovers.
ó Mukesh Khosla