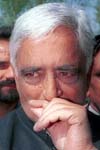 Mufti to insist on agenda
Srinagar/Anantnag, October 24
The People's Democratic Party (PDP) chief, Mufti Mohammed Sayeed, will stress on evolving a common minimum programme with inputs from the election manifesto of his party when he resumes talks with the Congress President, Mrs Sonia Gandhi, in Delhi tomorrow to forge a coalition government in Jammu and Kashmir.


In video (28k, 56k)



Edit page
Frankly Speaking: The mystique of disinvestment
The issue of disinvestment of public sector units by the Union Government has turned into a raging controversy across the country. The way many of the units have been sold have raised the hackles of public- minded individuals. How disinvestment is being done and for whom are the vital questions raised by them. Hari Jaisingh analyses the policy and its implementation so far and raises serious issues concerning national and public interest.
In Career Guide today

THE TRIBUNE MAGAZINES
On alternate Mondays

On Sundays
On Saturdays

IN PASSING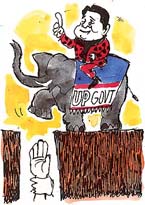 There is no threat to my govt!

by Sandeep Joshi
Amar meets BJP rebels
Lucknow, October 24
In a fast paced political development, the Samajwadi Party today started confabulations with BJP rebels and independent legislators today. National general secretary of the party Amar Singh met Independent legislators and a section of BJP rebels at the residence of a former minister, Mr Raja Bhaiyaa on the occasion of his daughter's birthday party.
Maya sees no threat
New Delhi, October 24
Dismissing any threat to her government due to revolt by some BJP MLAs, Uttar Pradesh Chief Minister Mayawati today ruled out any major expansion of her ministry, but said a couple of BJP legislators could be included any time.


In video (28k, 56k)


India begins troop pullout


In video (28k, 56k)



DALIT KILLINGS
5 lakh each for victims' kin
Chandigarh, October 24
The Haryana Government, which is increasingly coming under pressure from various political parties over the lynching of five Dalits in Jhajjar district on October 15, today announced a compensation of Rs 5 lakh each to next of kin of the deceased.
Mufti relents; talks in Delhi tomorrow
October 24, 2002

Pak nuclear scientists in touch with Al-Qaida
October 23, 2002

Deadlock continues
October 22, 2002

Manmohan hopeful
October 21, 2002

Manmohan to hold talks with Mufti
October 20, 2002

Decision to freeze DA, bonus deferred
October 19, 2002

Governor's rule in J&K
October 18, 2002

CCS okays troop withdrawal
October 17, 2002

Ultimatum to Cong, PDP
October 16, 2002

Cong, PDP adamant
October 15, 2002