Punditji out, computerji in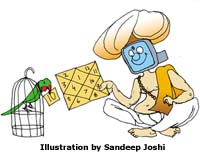 Peeyush Agnihotri
TRADITIONALISM is amalgamating with modernism. The eons-old art (or science?) of prediction has gone hi-tech if the number of Websites and computer software on astrology that abound the Net and market are an indication. In the pre-e era, those who believed in janampatris would visit an astrologer to get a natal chart made. In the WWW age, they either surf the Net or visit a shop that hands out computer printouts of horoscopes. In the pre-e era, those who believed in janampatris would visit an astrologer to get a natal chart made.


Hi-tech kundlis allure foreigners
COMPUTER horoscopes have taken the place of manual kundli, or astrological charts, in Varanasi, the holy town of Hindus. Thousands of foreigners throng the city every year and many often get attracted to the traditional astrologers. More and more people are now relying on the accuracy of the computers than the traditional kundlis or janampatris.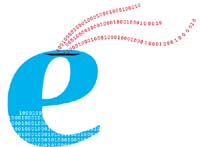 Online drive for storing data
Poonam Saini
THE Internet is the best tool for sharing information in today's technological era. The World Wide Web has, to a great extent, changed approach towards doing things. It has revolutionised the way we thought, worked and communicated. With the advent of technologies, such as e-mail and instant messaging, disseminating information is now just a matter of seconds. Over a period of time the Internet has also found its way into business activities and has become an extensively used tool for communication.

Computers are no longer use-and-throw machines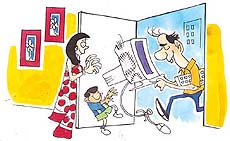 Jasjot Singh Narula
"INTEL Pentium 4 2 GHz, 80GB hard disk, 256 MB super-fast DDR RAM, Intel original motherboard, 17" TFT display monitor, 32X CD writer with the latest configuration — Buy now." Such type of advertisements are a permanent fixture in all leading newspaper and magazines. Think again. Do all professionals really need such hi-powered PCs? Does a typist really need it? Or, maybe, a doctor, a lawyer or a journalist? Many professionals rarely use their machines to their full capacity, as most of the software needs only low minimum specifications to operate successfully.

Mobile phones' subscriber base declines
CELLULAR subscriber base has registered a decline in the addition at just 3.6 lakh in September compared to five lakh additions in August. "The four metros together recorded a steep decline of 25 per cent reduction in additions," Cellular Operators Association of India (COAI) said in its latest figures released here today.

Microsoft Windows CE for mobile phones
Ashish Juneja
AS the users worldwide relied more and more on computers for information, the need to have "information anywhere and anytime" grew. With the advancements in chip technology the miniaturisation paved way to devices that provided on the move the features that were close to their desktop counterparts.

Spam undermines e-newsletters' credibility
E-MAIL newsletters may be brilliant, as a marketing ploy, but companies still have to fight spam to keep the interest of customers growing, says a new study. According to US-based Net think-tank the Nielsen Norman Group, people can have highly emotional reactions to e-mail newsletters.

IT WIT
by Sandeep Joshi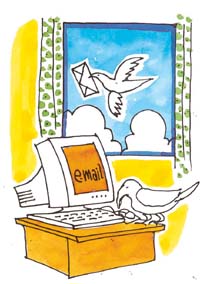 This is the latest in pigeon mail.
India's IT sector rebounds
Sumeet Chatterjee
INDIA'S IT sector, the locomotive of the country's economic growth, is finally showing signs of a rebound after struggling with softening demand and intense pricing pressure in the last few quarters. Analysts say the latest quarterly earnings posted by blue-chip software companies clearly indicate that the elusive recovery is on the way and that the stubborn technology spending slowdown is over.

Get ready for 4G convergence
Deepak Bagai
THE goal of the third-generation 3G services has been to implement the convergence of three parameters — voice, video and data on one channel. Convergence refers to integration of communications, business applications, management and security aspects, both on wired as well as wireless networks.

Game that Microsoft plays
Faisal Islam
IF you can't beat them, buy them. Or so, appears to be Microsoft's approach to the $ 30 billion video games industry. Last week Bill Gates' software giant swallowed Rare, the acclaimed British company behind the Donkey Kong, Starfox and Goldeneye games, for $ 400 million. Rare's reclusive founder-owners, the Stamper brothers, will develop games only for Microsoft's Xbox. Until now the British company had made its games exclusively for the rival, Nintendo system. Disappointingly for Microsoft, just a year after launch the Xbox is battling with Nintendo's Gamecube to establish itself in second position in the global market.