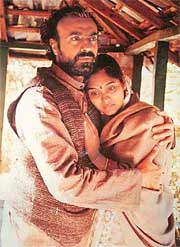 Nishad showed a womanís wait for a son on the eve of a war
Notably, four of the films in the Panorama were made by women themselves, including actress Revathy's directorial debut, MitróMy Friend, which had a predominantly female crew. Though it won the special jury award, it seemed somewhat overrated. The story of conflicts within an Indian family settled in the USA, no doubt told in a breezy fashion, evoked a sense of deja vu. The only imaginative stroke was showing the wife chatting with the husband on the Net, both unaware of each other's identity.
Buddhadeb Dasgupta's Manda Meyer Upakhyan (The story of a naughty girl) brought together an assortment of colourful characters. An ageing prostitute in search of a patron for her daughter, who is interested in studying and wonders whether man will reach the moon; a lecherous cinema owner keen on "keeping" the girl; his beleaguered driver, saddled with the task of caring for an ailing elderly couple. Not to mention a prowling cat and an intelligent donkey! Without a dull moment, this whimsical work captured life in all its hues. Surely another feather in Dasgupta's illustrious cap.
Sentimentality marred Shaji Karun's Nishad, which was dedicated to the "innocent victims of war". Set in 1971, on the eve of the Bangladesh war, it revolved around a woman waiting for news of her son, who is in the air force. Having lost another son in a freak accident some years ago, she lives in fear and uncertainty. To compound her turmoil, she repeatedly receives phone calls from an unknown child, who asks about his mother. The gulf separating the mother from her son keeps widening, leading to the inevitable tragic finale. Coming from the director of acclaimed films like Piravi, Swayam and Vanaprastham, Nishad proved to be a let-down.
Assamese film-maker Jahnu Barua continued to keep childhood in focus with Konikar Ramdhenu (Ride on the rainbow), which contrasted the beautiful world of a child's imagination with the harsh reality. The relationship between a juvenile delinquent and a kind Borstal official, portrayed with tenderness and wit, reflected the directorís optimism.
If Konikar... said "letís make a childís dreams come true", A.K. Birís Baaja said " letís appreciate a childís goodness". A boy, regarded as a good-for-nothing by elders, snatches another's mouth organ and refuses to return it. However, as the story progresses, he demonstrates his capacity to give rather than grab, to help people in distress. Ultimately, his parting with the instrument becomes an ennobling act of sacrifice.
The package of non-feature films in the Panorama was a variegated lot. In Vinod Sukumaran's Diary of a Housewife, a young woman waits in vain for her husband's return from war. Mythology criss-crosses the paths of history in Anjali Punjabi's film on Mirabai, A few things I know about her. This section benefited from the presence of big names like Goutam Ghose, Buddhadeb Dasgupta and Prakash Jha.
On the whole, the fare was engrossing, representative of Indiaís cultural diversity, but not the kind of stuff that makes waves in international film circles.