One-way ticket to success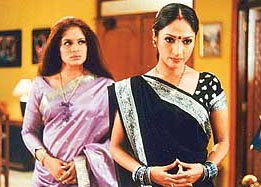 Mauli and Sudha in Kahin Kissi Roz: starry-eyed
When it first started being aired in April 2001, no one expected it to last very long. After all, how much could you stretch a mystery? The 'experts' hadn't reckoned with Ekta Kapoor's tenacity.
Today Kahin Kissi Roz is an year-and-a-half old. The suspense is over, the mystery has unfolded and it's become another saas-bahu tussle. Yet viewers are lapping it up as if it was the best thing that happened on TV.
Much of the credit for popularity must go to Mauli Ganguly who plays Shaina Sikand and Sudha Chandran who plays her mother-in-law Ramola. They are both rendering superb performances despite a thin storyline.
This daily soap requires shooting for over 15 hours a day. Understandably both Mauli and Sudha have been saying no to numerous offers that come their way. They say this is exhausting business. But "very, very satisfying." Considering KKR's rising TRPs there's hardly a reason to complain about the long working hours.
Hero's best friend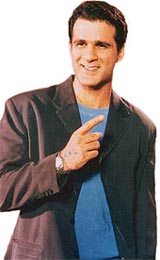 Sameer: Looking for the right breaks.

He's rivalled top models like Arjun Rampal and Milind Soman in ad campaigns. Whether doing TV spots for Esteem car or Tide Washing Powder or Dr Morepen, things had been going hunky-dory for Sameer Malhotra before Feroz Khan entered his life and offered him a role in Prem Agan, in which he introduced son Fardeen.
Much to Sameer's disappointment the movie flopped and he had to start re-piecing his life again. Bitten by the camera bug, he now wanted to do more than just modelling and started searching for roles that would suit his towering personality.
Sameer soon struck gold when he landed the second lead in Heena. The role of Adnan gave him immense publicity and put him on the wishlist of many serial makers. Now he's playing the hero's best friend in Aa Gale Lag Jaa on Zee TV.
Says Sameer, "I won't get stuck to stereotype roles. I would like to do a variety of roles. But right now a fine guy like him seem stuck to the second leads which is frustrating. You can't put a good man down for long!
Rakhi, fun-loving entertainer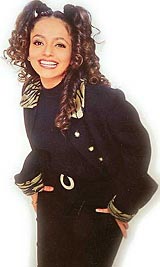 Rakhi: Sister-in-law woes
Why are there worry lines on the face of star-producer Rakhi Tandon known for her ebullience and bonhomie?
The reason is not for to seek. The top model of the 1990s and star of hit comedies like Banegi Apni Baat, Hum Paanch, Dekh Bhai Dekh, Cincinnati Bublaboo and Hum Hain Dilwale is feeling the heat of competition. And it is emanating from her household.
Sister-in-law Raveena Tandon too is doffing her hat in the TV arena and has made her intention known of making serious serials. Now that's not good news for Rakhi. Besides comedies, she's produced some very serious stuff that includes serials like Heena, Dulhan and the very sobering Har Mod Par.
Yes, she says, "Rakhi the producer is different from Rakhi the comic actress — I want to be a serious producer but a fun-loving actress who entertains."
And what about movies? No thanks. One personality in the movies is enough in the family," says Rakhi. Now, of course, there will also be two TV personalities from the same family!
The glitter of gold
It's the attack of the clones. Even as the return of KBC comes near, most other channels are sprouting their own versions. Now even regional channels have staked their claim for the lucrative pie.
While most new game shows doomed, some are showing promise. Sone Pe Suhaga on Alpha Punjabi every Saturday is a show with a difference. For one, the prizes on offer are — believe it or not — pieces of pure gold!
Then there's the slick anchoring while Khelo Number Khelo and Karavan Kismet Ka got shirkier by the episode, thanks to hosts like Archana Puran Singh and Javed Jaffery, this one has the ebullient Baba Sehgal who ushers in an absorbing mix of fun and masti.
Produced by BAG Films, Sone Pe Suhaga has an earthy appeal. Baba Sehgal who once held viewers spellbound with his pop songs is now hoping that his charm rubs off on the game show as well.
Back to basics
This is as fascinating as it gets in the annals of corporate power. In Back To the Floor on BBC World every Saturday at 2 p.m., top bosses come out of their plush offices and return to the shop floor to see what working life in their companies is really like.
It starts in the US when John Ferguson, the head of the world's largest private prison company, poses as a prison guard in one of his own prisons. He has never worked in a prison before, but he braces up to cope with killers, kidnappers and common thieves.
Eric Bonnet head of multibillion Burger King goes back to the floor grilling burgers, frying fries and serving customers. He understands the staff's problems and goes back to the boardroom to rectify them to make his company number one in the world.
In another episode cruise magnate, Bob Dickinson boards MS Imagination for a cruise in the Caribbean to see if his staff can deliver top quality service at rock bottom prices.
There are many more such captivating incidences where corporate honchos return to the roots and see the strengths and weaknesses of their organisations. In case you miss the programme on Saturday you can catch it again on Monday's 7 p.m.
— Mukesh Khosla