Meaty role


Hopkins in Red Dragon: Hannibal the Cannibal
In the era of flops, Hollywood studios have traditionally been turning to sequels for succour. But now, the dream city has taken a step backward and has fallen back on a prequel — thanks to Anthony Hopkins. Eleven years after he gave the Oscar-winning performance of Dr Hannibal Lectar, the man-eating wine-savouring psychiatrist in Silence of the Lambs, he has reprised the cannibal in Red Dragon.
Playing Hannibal the third time is draining him, says the 64-year-old Hopkins who last year did Hannibal, a sequel to Silence ... This year he has followed it up with a prequel. But then he shrugs, "It's a job. I do it the best way I can." Red Dragon is set in 1984 where Hopkins is yet to meet FBI agent Starling — played by Jodie Foster in Silence of the Lambs — but he's already in prison. The reason? "I made the mistake of having a friend for dinner!" he says half menacingly. No one misses the double-entendre..
Tiring times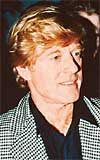 Redford: Life's a chore
Time rides ruthlessly even on the seemingly immortal stars. Take the swashbuckling Robert Redford. Millions of his fans the world over would be upset to know that age has pawed its path on his face but worse still, he is suffering from an array of physical disorders.
The 62-year-old star of superhits like Sting and Butch Cassidy and the Sundance Kid has of late been cancelling all his public appearances because of the vile ailment known in medical terms as the Epstein-Bar virus which leaves its victims in a permanent state of exhaustion. Even simple chores as getting up from a chair require a superhuman effort and the patient has to be on a permanent vigil as the ailment is known to be fatal at times.
Usually a result of fanatic dieting and long hours of work, the virus has found Hollywood a happy hunting ground. Cher too has been struck with it earlier. It causes fatigue, headache, fever, sweating, acute muscle and joint pains and severe loss of weight.
Redford is so worn out and tired that two of his multi-million productions, A President Elopes and Angel Heart have been put on hold. Doctors have warned him to slow down once he recovers but, says the stubborn star, he'd rather go down than slow down.
Taylor's crown jewel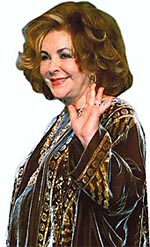 The dream city has never seen a bigger star than her. Her films are legend, her romances and marriages are the subject of Hollywood folklore and now her jewellery collection has fans gasping in disbelief. Elizabeth Taylor is non-challant about it and says she revels in jewellery. In fact her love for gems and precious stones dates back to the time when she was the reigning queen of the silver screen.
In her new book, Elizabeth Taylor: My Love Affair With Jewellery published by Simon & Schuster, the Cleopatra of the sixties dwells on the enormous amount of gems and jewellery she has amassed over the years.
To celebrate the launch of her book, Christie's auctioned one of her precious jewels that went for a staggering $ 1.2 million. The money was donated to the Elizabeth Taylor AIDS Foundation. Last year, her jewellery was in the news for all the wrong reasons. Her pet pooch chewed on her fabulous La Perriginla pearls and destroyed them. The sparklers which cost Liz $ 18,000 in 1967 were valued presently at $700,000. But Taylor is all smiles again as she dwells on her favourite subject — her staggering jewellery collection.
— Newsmen Features