Sunday, October 27, 2002

Ranga's Toon Tales
Boris Yeltsin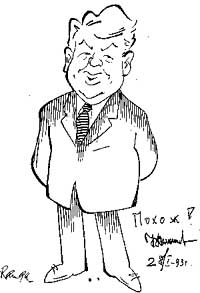 "LOOKS like me!" was the comment by the then President of Russia, Boris Yeltsin, when he signed the sketch Ihad drawn of him. This happened at Raj Ghat where the Russian President had gone to pay homage to the Father of the Nation, Mahatma Gandhi.
It may be recalled that Yeltsin who replaced Mikhail Gorbachev when Soviet Union disintegrated, was in Delhi as Head of State. Known for this rustic gestures, Yeltsin reveals in his autobiography Against the Grain that he was a born leader. Even in school, he recounts, he was always the ring leader. In 1942, when he was 11 years old, he persuaded his entire class to jump out of the first floor window so that when the teacher arrived not a soul was present in the room.
A graduate in civil engineering, Yeltsin became a member of the Communist Party and rose to become the first secretary at a relatively young age of 45. It goes to his credit that in spite of great struggles, Yeltsin became the President of Russia.