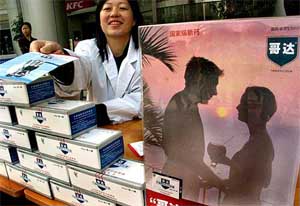 A Chinese saleswoman promotes a Chinese-made medicine called "Geda" that she claims to be an effective treatment for impotency in Nanjing, Jiangsu province, on Saturday. The medicine, a Chinese answer to "Viagra," is available as an oral tablet in 40 mg strength and sells for 60 yuan ($7.3) each. — Reuters
Inflation falls to 2.83 pc
New Delhi, October 27
Inflation continued its fall by another 0.19 per cent to 2.83 per cent for the week ending October 12, mainly due to southward movement of primary items' prices, apparently showing insensitivity to surge in oil prices.
| | | |
| --- | --- | --- |
| | ANALYST'S DIARY | |
Union Bank stock struggles to remain afloat
Notwithstanding the fact that the IPO market is in a comatose state, it is interesting to note how the post-listing performance of the previous banking IPO affects investor response to the next.
RBI bonds

Tuition fees

Standard deduction
| | | |
| --- | --- | --- |
| | CHECK-OUT | |
All that glitters is not 'pure' gold
Several years ago during Divali, consumer groups in Delhi began a sustained drive against the practice of weighing of sweets along with the box by retailers. As boxes turned heavier and the loss to the consumer became proportionately higher, the consumer organisations stepped up their campaign.