Monday, October 28, 2002, Chandigarh, India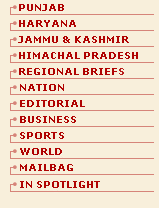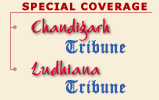 J A M M U & K A S H M I R
PDP, Cong finalise seat-sharing
Jammu, October 27
Senior Congress and PDP leaders were engaged in finalising seat-sharing arrangement in the Council of Ministers to be headed by Mr Mufti Mohammed Sayeed.


The people in Jammu and Kashmir have high hopes from the new coalition government, which takes the reins of the turbulent state. (28k, 56k)

Mufti — a man of many parties
Srinagar, October 27
After a gap of more than 27 years, a non-NC government to be headed by the PDP leader, Mufti Mohammed Sayeed, is being installed in Jammu and Kashmir. A former Union Home Minister, Mr Sayeed, who has held several ministerial positions in the state, headed the state unit of the Congress from 1975 to 1987.
2 Independent losers to sue EC for 'rigging'
Srinagar, October 27
A fortnight after the declaration of Assembly election results in Jammu and Kashmir, two Independent candidates of the Democratic People's Forum yesterday threatened to move court against "massive rigging and manipulations of election results".
2 ultras among 5 killed in J&K
Srinagar, October 27
Five persons, including two militants, were killed and two army men injured in separate incidents while a Hizbul Mujahideen militant surrendered in Jammu and Kashmir since last night, an official spokesman said today.
Hurriyat leader under house arrest
Srinagar, October 27
A Hurriyat Conference-sponsored general strike evoked a partial response in the Kashmir valley today even as a senior outfit leader, Moulvi Mohammad Abbas Ansari, was put under house arrest, official sources said.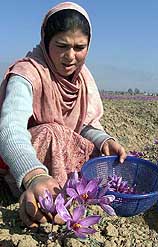 A Kashmiri girl plucks saffron flowers from her field at Pampore, on the outskirts of Srinagar, on Sunday. Saffron has been grown in Kashmir since the Mughal period, which began in the 16th century. It takes some 170,000 flowers to get a kg (2.25lbs) of saffron, a precious spice. — Reuters

LeT ultras killed in valley
October 27, 2002
NC feelers to fledglings
October 26, 2002
Army camp attacked
October 25, 2002
Mufti bows fearing split
October 24, 2002
Habibullah may be J&K Chief Secy
October 23, 2002
Will Cong, PDP form govt?
October 22, 2002
CM issue: students flay Mufti
October 21, 2002
Relent on CM's post, PDP urges Cong
October 20, 2002
De-escalation in Jammu unlikely
October 19, 2002
7 Pak intruders killed, SPO abducted
October 18, 2002