M A I N N E W S
Mufti to stake claim today
Tribune News Service
New Delhi, October 28
The four-party coalition headed by PDP chief Mufti Mohammad Sayeed will stake claim to form government in Jammu and Kashmir tomorrow. The swearing in will take place on Saturday in Srinagar. Congress President Sonia Gandhi will attend the swearing in.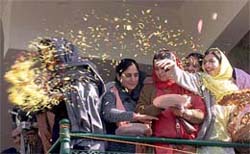 Supporters of the People's Democratic Party (PDP) shower petals on their leader, Mufti Mohammed Sayeed (not in the picture), in Srinagar on Monday. — Reuters photo
Leaders of the Congress, the PDP, the Democratic People's Forum and the Panthers Party will meet Governor G.C. Saxena in Srinagar tomorrow to stake claim, formally presenting the evidence of the coalition's majority in the 87-member Assembly, sources said.
The new government would be administered the oath of office and secrecy in Srinagar on Saturday, they said.
Leaders of the coalition have started arriving in Srinagar.
Democratic People's Forum president M.Y. Tarigami has also reached Srinagar.