THE TRIBUNE MAGAZINES
On alternate Mondays

On Sundays
On Saturdays

IN PASSING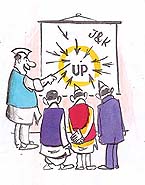 Now that we have recalled our forces from J&K, let's redeploy them entirely in UP!

by Sandeep Joshi
Kashmir panel meets US official
To hold talks with 'certain elements in Pak'
New Delhi, October 28
The Kashmir Committee, headed by former Law Minister Ram Jethmalani, today decided to hold talks with "certain elements" in Pakistan after holding wide-ranging parleys with visiting senior US official Richard Haas and Hurriyat leader Abdul Gani Bhat on efforts to find an amicable solution to the decade-old militancy problem in the state.



Mufti to stake claim today

SAD dharnas across state
Malout/Gidderbaha, October 28
Announcing the launch of jail bharo morcha in a peaceful manner from November 15, SAD President Parkash Singh Badal today urged party workers to mobilise 25 volunteers from each village of the state to begin a fight for justice against the alleged atrocities and terror unleashed by the Congress government.


Punjab page: SAD activists stage dharnas


Mr Parkash Singh Badal, Mr Gurdas Badal and Mr Sukhbir Badal at a rally at Malout on Monday. — Photo Kulbir Beera

Krishna tenders apology to SC
New Delhi, October 28
Abandoning defiance, Karnataka Chief Minister S.M. Krishna today tendered an "unconditional apology" to the Supreme Court for not complying with its orders.

Edit page: Krishna's watered-down stand


Brajesh emerges unscathed
New Delhi, October 28


Prime Minister's Principal Secretary and National Security Advisor, Mr Brajesh Mishra, will continue to occupy both his key posts. Arguably the most powerful bureaucrat in the country, Mr Mishra continues to be Prime Minister Atal Behari Vajpayee's favourite and Mr Vajpayee is in no mood to be dictated by a section of the Sangh Parivar that has been demanding Mr Mishra's ouster, well-placed sources here said today.
Mufti to scrap POTA
October 28, 2002

Mufti to be CM
October 27, 2002

PM vows to crush Pak monster
October 26, 2002

Theatre of terror: 700 held hostage
October 25, 2002

Mufti relents; talks in Delhi tomorrow
October 24, 2002

Pak nuclear scientists in touch with Al-Qaida
October 23, 2002

Deadlock continues
October 22, 2002

Manmohan hopeful
October 21, 2002

Manmohan to hold talks with Mufti
October 20, 2002

Decision to freeze DA, bonus deferred
October 19, 2002