Free farmers or face stir, threatens BKU
Sonepat, October 28
The Haryana unit of the Bharatiya Kisan Union has given an ultimatum to the state government for the release of arrested farmers and withdrawal of false cases instituted against them by November 1 (Haryana Day) or face a statewide agitation on this issue.
Chautala govt anti-farmer: Surjewala
Sonepat, October 28
Mr Shamsher Singh Surjewala, former HPCC President and the President of the Haryana Krishak Samaj, has termed the calling of the special session of the Haryana Vidhan Sabha as a gimmick.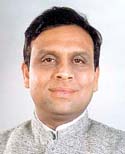 FACE TO FACE
'MCD privatising Tehbazari to save its skin'
MR Vijender Kumar Gupta, the vociferous BJP member of the Municipal Corporation of Delhi, is a former vice-president of the Delhi University Students' Union (DUSU) and has been associated with the RSS since his childhood. The RSS teachings influenced him to join politics and became associated with the political activities of the Akhil Bharatiya Vidyarythi Parishad, the student wing of the BJP.
Striking NSIT staff want director's suspension
New Delhi, October 28
The indefinite hunger strike launched by employees of the Netaji Subhas Institute of Technology entered its seventh day today. The union is demanding the suspension of the Director of the institute, Dr B. N. Gupta, and the initiation of a CBI inquiry against him on charges of malpractice.
SAD (Badal) activists detained
New Delhi, October 28
A group of Shiromani Akali Dal (Badal) activists heading towards Congress chief Sonia Gandhi's residence to protest against what they called the interference of her party's government in Punjab in the matters of Sikhs was detained midway here today.

SAD (Badal) activists burning the effigies of Punjab Chief Minister Amarinder Singh and Congress president Sonia Gandhi at Gurdwara Rakab Ganj. Tribune Photo Mukesh Aggarwal
Uneasy is the head that wears a helmet!
Faridabad, October 28
Wearing a helmet by a two-wheeler rider is not only necessary from the safety point of view, but has also been mandatory as per the Traffic Rules Act. That is an old hat!


Preparations for samagam in full swing
New Delhi, October 28
Preparations for the 55th annual Nirankari Sant Samagam, scheduled to be held here from November 9 to November 11, are in full swing. A vast township of tents is coming up fast on the samagam grounds on both sides of Burari Road in North Delhi. Thousands of volunteers of the Sant Nirankari Sewa Dal and other devotees have been working daily from early morning till late in the evening for the last two weeks to level, sweep and clear the grounds and make them ready for the tents.


Delhi Minister of Urban Development A. K. Walia with Nirankari Sant Samagam organisers at the venue on Burari Road.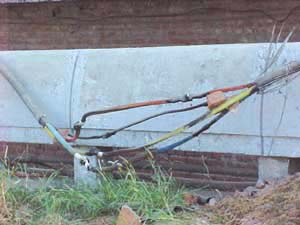 HIGH TENSION: Ingenious Power Department men have placed a brick between high-tension wires to prevent them from touching each other at the Shahdara flyover. — Photo by Anil Sharma
CRPF exhibition
New Delhi, October 28
A three-day Central Reserve Police Force (CRPF) welfare exhibition concluded here yesterday. The exhibition in which sectors from all over the country put up their stalls was declared closed after a brief ceremony.
Confusion over postal rates clears
Faridabad, October 28
The confusion over excess rates charged by the Department of Posts for book packets containing printed books has been cleared with the intervention of the People's Union for Civil Liberties (PUCL).
DELHI DIGEST
Delhi cop killed in mishap
New Delhi, October 28
Vijender (32), a constable posted at the Hari Nagar police station, died in an accident at Srehra Mode at Jafarpur Kalan in South-West district last evening. The constable was a resident of Jhajjar in Haryana.
NCR BRIEFS
Two killed in tractor-bus collision
Rohtak, October 28
Two youths were killed and another one was injured when a tractor carrying them collided with a Haryana Roadways bus and overturned near Maina village last evening. According to information, three youths were going in a tractor trailer from Karontha village to Rohtak. The tractor was hit by a bus and overturned.