Vij is new Army chief
Tribune News Service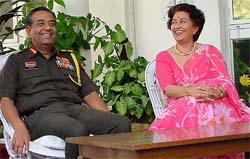 Chief of the Army Staff designate General N. C. Vij with his wife Rita Vij. — Tribune photo Mukesh Aggarwal


New Delhi, October 31
The government today announced Lt-Gen Nirmal Chander Vij would succeed Gen S. Padmanabhan as the Chief of the Army Staff.

Lt-Gen Vij, who is Vice-Chief of the Army Staff, will take over from Gen S. Padmanabhan when he demits office on December 31.

A respected strategist, he is the first Army officer hailing from Jammu — the home of the gallant Dogras. He is the seniormost General in the Army after the chief and has a string of decorations to his credit, including the Uttam Yudh Seva Medal for

Kargil operations.

An alumni of the National Defence Academy, Lt-Gen Vij has the rare distinction of having commanded an anti-insurgency unit as well as a strike corps. He was the Director-General of Military Operations (DGMO) during the Kargil conflict.

The elevation of LtGen Vij as the Army chief would be followed by a major reshuffle in the top Army hierarchy, with Lt-Gen Shantanu Choudhary, GOC-in-C of Shimla-based Army Training Command, likely to be the Vice Chief of the Army Staff.

Two more senior Corp Commanders, Lt-Gen J.J. Singh, commanding a strike corps, is slated to move as Commander of the Army Training Command and Lt-Gen Hari Prasad, Director-General of Infantry at the Army Headquarters is slated to take over as Army Commander of Northern Army Command in place of Lt-Gen R.K. Nanavaty who retires in February.

During his 40-year-long and distinguished service, Lt-Gen Vij has served in a variety of command, staff and instructional appointments.

On promotion to the rank of Army Commander in October 2000, General Vij commanded the Army's prestigious Southern Army Command before moving to his present appointment in October last year.

During his tenure as GOC-in-C, Southern Command, General Vij supervised large-scale relief operations undertaken by the Army in the aftermath of the devastating earthquake in Gujarat in January, 2001.

Besides being a graduate of the Defence Services Staff College, Wellington, he has done Senior Command Course, Higher Command Course and the prestigious National Defence College Course.

Married to Rita Vij, the new Army chief has one son. His other decorations include Param Vishist Seva Medal for distinguished service of the highest order in 1999 and Ati Vishist Seva Medal in 1997.