SAD expels two members
Akalis to launch morcha from Nov 15
Chandigarh, October 31
In an important decision at the SAD's political affairs committee today, Mr Mall Singh Ghuman and Mr Partap Singh were expelled for their "anti-party'' activities.
2,000-cr stamp paper racket unearthed
New Delhi, October 31
A nationwide forged judicial stamp paper racket involving thousands of crores and spanning 17 states, including Punjab and Haryana, has been unearthed. The racket had been thriving for the past 10 years.
THE TRIBUNE MAGAZINES
On alternate Mondays

On Sundays
On Saturdays

IN PASSING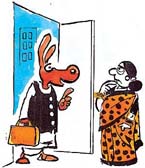 Very soon there will be a "stable" government in Uttar Pradesh

by Sandeep Joshi
Farmers charged for power never used
Indo-Pak Border (Amritsar), October 31
The misery of border farmers can be adjudged from the fact that they are receiving electricity bills for their tubewells and agricultural land which remained inaccessible to them for the past 10 months due to laying of mines by the Army.


Bhagel Singh of Rajatal village, the most mined area, shows the electricity bills received for tubewells situated in areas inaccessible due to the mines.
— Photo Rajiv Sharma
No-trust move defeated in Haryana Assembly
Chandigarh, October 31
A motion moved by the entire Opposition in the Haryana Assembly today expressing want of confidence in the state government was defeated by voice vote even as Opposition legislators walked out of the House even before voting.

No benefits for Haryana judges


Editorial: Casinos and development
RECRUITMENTS BY PSSSB
VB submits report to Sinha
Favours removal of over 4,700 employees
Chandigarh, October 31
The Punjab Vigilance Bureau has submitted a report to the state government, recommending the removal of 4,750 employees recruited by the Punjab Subordinate Services Selection Board during the SAD-BJP rule.
Mufti invited to form govt
October 31, 2002

RBI cuts bank rate, CRR
October 30, 2002

Gujarat poll on Dec 12
October 29, 2002

Mufti to scrap POTA
October 28, 2002

Mufti to be CM
October 27, 2002

PM vows to crush Pak monster
October 26, 2002

Theatre of terror: 700 held hostage
October 25, 2002

Mufti relents; talks in Delhi tomorrow
October 24, 2002

Pak nuclear scientists in touch with Al-Qaida
October 23, 2002

Deadlock continues
October 22, 2002

Manmohan hopeful
October 21, 2002