Sunday, November 3, 2002, Chandigarh, India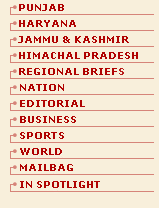 C A L E N D A R
Sunday, November 3, 2002
Vikrama Samvat
2059
Kartika
18
Shaka Samvat
1924
Kartika
12
Hijri
1423
Shaban
27

Kartika Krishna Paksha Trayodashi up to 9-25 a.m.
The thirteenth lunar day of the dark half of Kartika
Chaturdashi obliterated (Tithi-kshaya)
Hasta Nakshatra up to 10-27 a.m.
The moon enters Libra at 9-0 p.m.
Duration of Bhadra 9-25 to 7.35 p.m.
Narak Chaturdashi
Roop Chaturdashi
Hanuman Jayanti
Sarvartha siddhi yoga up to 10.27 a.m.