Sunday, November 3, 2002
Books
Short Takes
Series brings to life heroes that never died
Jaswant Singh
Rabindranath Tagore, the Poet Sublime (90 pages) by Reeta Dutta Gupta
Sri Aurobindo, the Spiritual Revolutionary (80 pages) by Atulindra Nath Chaturvedi
Field Marshal Cariappa, the Man Who Touched the Sky (57pages) by Edel Weis
M.S. Subbulakshmi, the Voice Divine (79 pages) by V. Gangadhar; All Rupa & Co. Price Rs 95 each.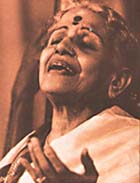 THERE has always been a shortage of books on eminent persons who have made a contribution to the making of India, which could attract young school-going readers both in terms of cost and excellence in production. Rupa and Company, a forward-looking publishing house, has filled this void with a number of biographies under its Charitravali series. They have short-listed 29 names, many belonging to the past, some still alive, and have already published 19 CD-sized books, printed on art paper, attractively designed and moderately priced. The personalities come from various fields — monarchs, thinkers, reformers, freedom fighters, filmstars, sportspersons, writers, scientists, artists, dancers, musicians, etc. Some of them are well known, but the memory of some has become dim under the dust of time. The volumes narrate fascinating facts about these personalities and present them in an easy story-telling manner.
The present lot consists of four such biographies, those of Rabindranath Tagore, Sri Aurobindo, Field Marshal K.M. Cariappa and M.S. Subbulakshmi.
Rabi Thakur, as the literary genius, Rabindranath Tagore, is known to Bengalis, has been described in various aspects of his life, as a poet, a musician, a dramatist, novelist, a painter, and as an educationist. Yet this founder of Santiniketan, a famous seat of learning in this country, left school at the age of 14, finding it boring and agonising. Fourteenth and the youngest child of his parents, he grew up in an environment of affluence, under the care of servants, listening to folklore and stories from the Ramayana and the Mahabharata from them. The book traces his childhood, adulthood, the growth of his poetic genius, his marriage, the birth of three daughters and two sons, and his sorrows — the loss of his wife, a daughter, a son and then his father. He wrote his first verse at the age of eight and continued to write till the end of his life. The book discusses the various phases of his writing — poetry in various moods, short stories, novels, plays and essays. His most glorious period came when in 1913 he was awarded the Nobel Prize for Literature on his collection of mystical hymns, Geetanjali. Two years later he was awarded the knighthood, which he renounced after the Jallianwala Bagh massacre.
Tagore's life has not been all roses. He saw disappointments and also faced acrimony. But Reeta Dutta Gupta, author of this monograph, has steered clear of these and has not touched this aspect of the poet's life.
Aurobindo Ghose was born in Calcutta (now Kolkata) in the late 19th century when the city was the hub of radical thoughts and movements which are often described as the Indian Renaissance. But his anglophile father allowed no Indian influence on his children and at the age of seven Aurobindo was sent to England with strict instructions to his host that he should not be allowed to have any contact with the Indians there. Aurobindo passed the final ICS examination but failed because he did not report for the mandatory riding test.
Atulindra Nath Chaturvedi records Aurobindo's career, starting as a college teacher in Baroda, his marriage and the death of his wife, in 1918, his literary activity, practice of yoga and his channelising his yogic exercises into political activity. He provided inspiration to the revolutionary movement and helped in the transformation of the Congress from a body of the elite into a mass organisation. He projected an image of India, proud of its past and capable of facing the future.
Aurobindo was jailed for his anti-British activities. In jail he was convinced that India would soon be independent and that he had no role in politics anymore. After his release, he moved to the French enclave of Pondicherry and started living as a 'religious recluse'. In 1926, he established his ashram and made pursuit of spiritual goals his main aim. Here he propounded the concept of integral yoga which attempts to synthesise jnanyoga, Bhaktiyoga, and karmayoga by a central principle common to all. A French spiritualist, Paul Richard, and his wife Mirra visited him in 1910 and became his ardent followers. Mirra later became famous as 'The Mother' of Aurobindo Ashram. The book recalls Aurobindo's support for the Allied cause in the Second World War, his appreciation of the Cripps proposals which the Indian leaders rejected, and his message on India's Independence on August 15, 1947. On December 5, 1950, came to an end Aurobindo's adventure with life when he went into mahasamadhi. If one has to count the most distinguished soldiers of India, Field Marshal K.M. Cariappa's name would invariably occupy the top spot. This dauntless soldier, steeped in the traditions of the Army, is known as the 'father of the Indian Army'. His retirement as the Commander-in-Chief was marked by a stampede near New Delhi railway station when he boarded a train out of the Capital.
Edel Weis has charted the life of this renowned soldier from his childhood to becoming the first Indian to be given the King's Commission in the Army which till then was officered exclusively by Englishmen. His march from the rank of a Second Lieutenant to the top is a tale of valour and dedication. When he became the first Indian Commanding Officer of a battalion, he also became the first Indian to have British officers under him.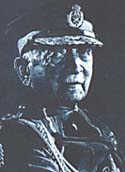 Edel Weis recounts his unhappy marriage: at the age of 38 he married Muthu Machhiah, a girl hardly out of her teens. The war kept Cariappa away from home for long periods and Muthu was unable to cope with these periods of separation. Eight years after their marriage, she walked out of his life, leaving a son and a daughter to his care. Three years later she died in a road accident.
The author has described Cariappa's step-by-step rise in the Army. His experiences of the war, India's Independence, the Kashmir operations, all have been narrated in the style of a story-teller. The General was among the few senior Indian officers who handled the Kashmir operations in 1948 and was greatly disappointed when the government accepted a ceasefire. He sent a letter of protest to Nehru but stopped short of resigning, which some of his colleagues had suggested.
On taking charge as C-in-C in 1949, he set about the task of transforming the colonial profile of the Army into that of a national force. China's entry into Tibet made him apprehensive and in 1951, eleven years before China's aggression against India, he placed before Nehru proposals for defensive measures in that region but Nehru was not convinced of the need for military preparations against China. In 1986 he was conferred with the rank of Field Marshal for life and on May 15, 1993, this illustrious soldier passed away at the age of 94.
M.S. Subbulakshmi, known all over India as M.S., became popular first in the South for her golden voice and mastery over Carnatic music and then she conquered the North with her bhajans and devotional songs. V. Gangadhar writes about this musical genius with the reverence of a lifelong admirer.
Gangadhar recalls her rise to fame, giving five to six performances every month over a period of 60 years, many of which were in aid of charities. She is not inclined to make a comparison of singers of the past with those of the present, saying, "I am not an expert in music", but she is clear about one thing — that there cannot be any Indian music without the element of bhakti.
Her life has been a long chain of concerts all over India and abroad, ably handled by her husband, Sadasivam, and punctuated by awards and accolades. She delighted Mahatma Gandhi with her bhajans, impressed Nehru, and was invited to sing at the UN General Assembly.
Her list of awards includes the Ramon Magsaysay Award, the Padma Bhushan, the Padma Vibhushan and the Bharat Ratna, besides doctorates from five universities. Her film Meera, which was made in Tamil in 1945 and in Hindi in 1947, became a tremendous hit, and its music, full of bhakti rasa, identified her with Meera, the Rajput princess who gave her soul to Lord Krishna. Subbulakshmi does not give live performances any more but her recordings adorn music shops all over the country.