In the news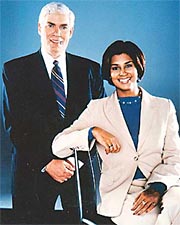 Clancy & Verjee in Your World Today
With the battle for news hotting up by the day, leading channels are developing new programming strategy to meet the challenge of fierce competition in the days ahead.
Star TV is going it alone from April 1, 2003. NDTV is now reportedly scouting around for new partner. Sahara is getting ready for a round-the-clock news channel and reports are that Aaj Tak is going English as well.
Amidst all this activity, CNN too is revamping and re-designing. Now it has launched Your World Today from Monday to Friday at 8.30 p.m. to 12.30 a.m.
This show is presented by two anchor teams. The first edition features Zain Verjee and war correspondent Jim Clancy. And the second has Daljit Dhaliwal paired with Australian journalist Michael Holmes who recently reported from the West Bank.
Showcasing their global knowledge and quick wit, these two duos each host a two-hour newscast that goes beyond headlines by analysing and delving into the "how" and "why" of the news. Points which our Indian channels desperately need to learn.
Prime thriller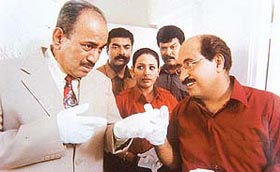 CID: Enduring appeal
For almost two years now, it has stood the test of time. Crime thrillers have come and gone but CID, every Fridays on Sony at 10 p.m., has maintained its lead and over the years has garnered a dedicated viewership.
Based on real-life crime situations, the thriller has dealt with subjects like murder, kidnapping, blackmail and even bride burning. The crime-combating technology depicted in the episodes is as close to the real thing as possible.
However, director B.P. Singh doesn't let the technical authenticity detract from the basic human interest of his serial. What dominates are emotions, tensions and crime as also the detectives who adopt clever means to solve complicated cases.
But more than that it is the slick performances of its protagonists that keep the interest alive in the series week after week. It once enjoyed a TRP of 10 — an impressive mark by any standards for a private channel. Though the popularity may have fallen a bit in an era dominated by Ekta Kapoor, CID deserves a TRP of 10 and more even today!
Out of the world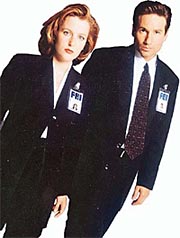 FBI agents Scully & Mulder in The X-Files: alien adventure
The truth is out there, somewhere. And it is for agent Dana Scully to find out where it is. The seventh season of The X Files — Sundays 10 p.m. on Star World — ended rather ominously with agent Fox Mulder abducted by what appeared to be an alien space ship and Dana confessing that she is pregnant.
The eighth season now begins with Scully searching for the truth about her missing partner, while simultaneously forced to contend with a cynical FBI bureaucracy and a new associate, agent John Doggett, who reluctantly joins Scully in the search for Mulder.
Beginning as a cult hit in early nineties, The X-Files has grown to become a worldwide phenomenon, winning three Golden Globe and Emmy awards for best dramatic series and Golden Globe Awards for David Duchovny and Gillian Anderson.
So, If you are captivated by aliens, space invaders and extra-terrestrials, get set for the eighth edition of this spooky show!


Saroo in the Akhiyan video: Surprise hit
Sizzle & fizz
She's literally on a song ever since the release of he debut album, Akhian. "It's a dream come true," says Saroo Maini, the Chandigarh-educated law graduate who is now thinking of making singing a full-time profession.
Though most of the songs are rhythmic and hummable, it is the stunning video of the title song that is all set to make the album a smash hit. The video captures the essence of the song which portrays a college girl smitten by a macho film star. When she actually meets him she feels she is in a trance, a dream sequence.
It is not surprising that her video is being heavily rotated by most of the channels and especially those dedicated to music. "My music reflects my feelings and experiences," says Saroo, who has sung, written and produced all the songs.
Her music will not disappoint as it is a melodic East-West fusion. Which may be news for all those who thought the album is all about sizzling bodies and come-hither looks!
Back to the boardroom
Enter the world of big business and examine how top bosses steer their way through start-ups, revivals, turnarounds and disasters. From nightclubs to airlines, from sandwiches to pop bands, Trouble At The Top, Saturdays on BBC World tracks the high-flying, ambitious entrepreneurs and how they keep re-strategising to stay on top.
Whether a pop star or a corporate chief, staying at the top in today's high-powered world of commerce takes imagination, determination and courage. As the future of each enterprise hangs in the balance, cameras go into the boardroom to watch the bosses in action and crucial decisions being made.
One of the most notable episodes revolves around one man's attempt to make Britain's most famous retail store cool again. Marks and Spencer has been going through tough times. But now the chain has signed up fashion guru George Davies. The programme follows George as he tries to create a whole new brand for Marks called Per Una.
Apart from this, there are several episodes revolving around top corporate honchos who are working towards regaining their numero uno slot or simply trying to stay on top by fending off fierce competition — an exercise that requires the skills of a mastermind.
—Mukesh Khosla