Sunday, November 3, 2002

Home Space
Let there be light
Chetna Banerjee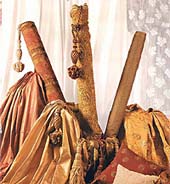 SURE, the market is choc-a-bloc with Divali knick-knacks. But all those vibrant streamers, terracotta artefacts and designer candles are something that practically every other person is buying to enliven their interiors. If you don't want your home to look like just any other bedecked bride but appear a class above the rest, try out any of these quick ideas to make your abode shimmer in all its glory.
Light up your life with zany painted bulbs. Buy plain bulbs and glass paints. Draw any interesting pattern on them—geometric, star-spangled or ethnic—and paint in fluorescent hues. Paint from the top. You can use a black outline to emphasise design. Add layers of paint for deeper tones. Turn the lights on. Viola! your home will be filled with vivid hues.

Carry your creativity a step further. Complement painted bulbs with colourful home-made tin lanterns. Though terracotta lanterns and light diffusers abound in the market, metal lanterns will give your decor a distinct look. And they can be ready in a couple of hours, so get going!

All you need are a couple of empty metal dabbas lying around the house—be they coke cans, desi ghee or refined oil tins, a hammer, nails of different sizes, oil paint, thin wire for making a loop and candle or diya. Paint a coat of bright colour on the tin's outside. Fill the can with water and freeze for a couple of hours to avoid the sides from getting disfigured or collapsing when you hammer them. When the water in the can is frozen solid, place the can on its side on top of a towel and use the nail tips to hammer in holes of various sizes. Remove the ice from inside. Make two holes near the top, on opposite sides, for stringing a wire to hang it. Place a diya or candle at the bottom. You can also place it on the floor or table over a lit candle or lamp.