What keeps you sailing in a crisis?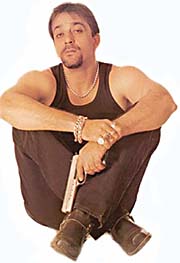 The one thought that kept me going in prison was that things could have been worse. I have spent the worst days of my life behind bars. Now, nothing fazes me.
There are rumours that everything is not right between you and your wife, Rhea Pillai?
Who can stop people from talking? And which marriage does not have differences? But I will never jeopardise my marriage. Rhea is like an anchor in my life.
You wear a lot of rings with pictures of Gods. Have you become superstitious?
Not superstitious, but definitely very religious. I wear a Topaz ring for luck. I believe in Vaishno Ma, Shivji and Sai Baba and I wear their rings. When you're in the limelight, people make you a victim of gossip. Looking back though, I wish I hadn't been so rash in my early days. But then, life doesn't come with an instruction manual. Religion and God have helped me mellow down.
Do you look back at those dark days when you were behind bars?
Yes, sometimes, so that I don't forget the lessons I have learnt. So that I don't forget the people who have stood by me, despite all my mistakes and misfortunes.
After Vaastav, you have ended up with so many bad roles and films.
No actor chooses bad movies. They just turn out like that, bad. I think a good movie depends on several factors: a good director, a good script and good co-actors. When you sign a film, you don't know whether the film will turn out to be good or bad. I have always gone by my instincts and most times they are right.
With Kaante, you have turned producer. What prompted this move?
I had always dreamt of being a producer and Kaante seemed to be the perfect opportunity to fulfill my dream. Sanjay Gupta, who I am very close to, is directing it. It is a script I believe in. Sanjay and I have worked very hard on this film. We sat on the script, music and even dialogue sessions together. We even convinced director Mahesh Manjrekar to act in the film.
We told him that he'd have to colour his hair to give him a specific look. He was hesitant initially, but agreed later on. In fact, all of us, right from Amitabh Bachchan to Aditya Panscholi have a specific look in the film. It was a fantastic experience, one that I would like to relive, again and again.
Why has the release of Kaante been pushed back?
We are still busy with post-production. We had to make some changes, but the film will be ready for release in December.
Most of the films you are doing are with friends like Sanjay Gupta, Mahesh Manjrekar and David Dhawan. Why aren't you acting with directors like Yash Chopra and Subhash Ghai?
I can't go around asking for work. I have been here long enough and people know me and the kind of work I do. I am also comfortable working with my friends. I have no hassles doing all my films with them.
Frankly, I cannot be pushed into doing a project I don't believe in. I feel the need to be convinced about my role and the script, before I take on a project. Sometimes, that becomes difficult with top line directors.
Isn't it a fact that sometimes you do films with directors who haven't had a great track record, only because they are your friends and you can't let them down?
Everyone goes through ups and downs. Sometimes a film works, sometimes it doesn't. That doesn't mean that the director has no talent. It's just that something goes wrong somewhere. And yes, I do a lot for friends because they do a lot for me. They have stood by me in my darkest hour.
Why did Sanjay Gupta and you decide to remake a Hollywood film, Reservoir Dogs, instead of working on an original script?
I think Kaante is the first of its kind. Reservoir Dogs was the first heist film and that's when Sanjay thought of making a film on the same lines. But let me tell you that Reservoir Dogs was inspired by another film, The Killings. And tell me, how many movies are still being made in the West, which are inspired by Gone With The Wind or My Fair Lady? You'll lose count.
Isn't your role in Kaante modelled around the role played by Robert De Niro in Analyze This?
Yes, in a way it is. I have seen Analyze This. I think it's a fantastic movie. We have Indianised the role for the Indian audience. I am really excited about the role. Especially because it was played by Robert de Niro, who is one of the best actors in Hollywood. But I have played the role quite differently. It's got my own style. I don't like copying anyone, even if the actor is my favourite.
Have you aimed the film at an international audience?
Yes, we have. We will be releasing it simultaneously across the world. We wanted to make a quality film for the international audience and we have shot with an international crew. We plan to dub the film in many languages, Indian as well as foreign.
You have been a star for more than a decade. Today you are acknowledged as an actor too. Where to, from here?
I don't know. Planning has never been my forte anyway. Right now, I'm concentrating on my forthcoming projects, my life and of course, my wife! God will take care of my future, like he always has.
What do you dream of the most? What is your most intense desire?
Of owning an island. Or being in an island in Tahiti or on a Mexican ranch with horses like those in the John Wayne westerns. Oh, I also dream of owning a private aircraft like some of the Hollywood stars. I dream of making it big in Hollywood. I am biding my time.
— Leisure Media News