Tradition can only be scruplously followed if you are located in your native place, says Anita Bhandari, who is the director of a company that makes art paper. A Jain from Jodhpur, she says since there are many Jain families in Jodhpur it is easy for them to follow the tradition of fasting. Lord Mahavira died on Divali, so it is a day for visiting the Jain temple. Her mother-in-law, Agam Kunwar Bhandari follows the traditional mode. Anita bemoans the shift from collectivism to individualism that has transformed the manner of celebrating. She tries to inculcate the same traditional fervour in her daughter Aditi, an engineering student and son, studying to be an architect in the USA. She recalls how everything was lovingly prepared by hand at home. The involvement of the elders of the family and the respect shown to them during this occasion seems to be a thing of the past. Youngsters like to usher in Divali with their friends. Earlier there was emotional attachment, now people celebrate because they are expected to do so. The newspapers never focused so much on celebration of Divali Holi etc. People just went ahead and celebrated without all this hype, she feels. That in itself is a big shift.
Kanwal, the daughter of a retired General, celebrated Divali all over the country and even abroad during her growing years. Since it was always in the clubs and never celebrated in a traditional way, Kanwal wanted to remedy that. Fascinated by rituals and traditions, she makes it a point to do an elaborate puja and light lots of diyas, even up to 500 of them. This love for custom has been imbibed by her daughter, Ayesha, who despite being based in Tokyo, dresses up her daughters Ayla and Sehar in lehngas and tries to do things much in the same way as they are done at home. Kanwal's focus is on the domestic staff and the underprivileged more than the well-heeled people. She tries to light up the lives of poor people. A particularly memorable Divali was when Kanwal went to her granddaughters' American School and told them the story of Divali and showed them pictures. The focus in her family is not on gifts but on the rituals. She makes it a point to send a Divali card to her grand daughters. She feels we should all emulate the example of Indians settled abroad who celebrate with a vengeance and fervour because they are afraid of their cultural practices getting diluted and want to retain the essence of Indianness.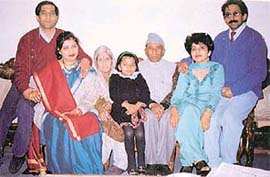 Vishwa Nath Mohan with sons Varinder and Rajinder, daughters-in-law Priyanka and Meenakshi and granddaughter Riddhima
For the family of 70-year-old V.N Mohan, a consultant with Mount Shiwalik Breweries, the mode and manner of celebration has not changed much from the time of his father Ram Rakha Mal Mohan, who was a bank employee in Amritsar. The traditional puja with silver coins has been done down the ages. The family does not spend these silver coins and they are put away in a thaili. Unique to the family has been the practice of taking out a reserve fund of a fixed amount, be it Rs. 1000 or 5oo, every year. His sons Virendra Mohan, a senior sales manager with a private concern and Rajendra Mohan do not wish to celebrate with friends. So it is no non-veg, liquor or gambling for them that day. It's new clothes for the children and the family members like to gift a Ganesha statue to each other. The kesar-chandan tilak is applied and the five diyas are kept burning throughout the nigh as they take turns to add the ghee to them throughout the night..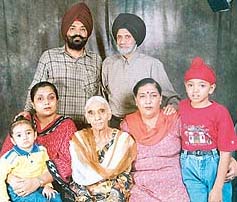 Jagjit Kaur Bedi with daughter Renu Bhalla, son-in-law H.S. Bhalla, granddaughter Rippy, grandson-in-law Sarabjeet Singh Chhabra, and great grandsons Gurtaaj and Gurniket.
Jagjit Kaur Bedi, in her 80s, remembers desi ghee diyas being lit. The norm was to send tokris of sweets, especially to the daughters of the house. The mud hatti, packed with phulian batashas and sugar toys was a must. Dhanteras saw almost everyone buying brass utensils. The puja of Lakhsmi as well as Guru Nanak has been done down the generations in their family. Renu Bhalla, 55, and Harjinder Singh Bhalla, a retired engineer from the steel plant at Durgapur.
Currently settled in Chandigarh, the Bhallas are as accustomed to Kali puja during Divali as they are to other Bengali customs. Even in Durgapur they stuck to their manner and mode of celebration. Renu has memories of the bazaars in Delhi being decorated with large brass thaals during her childhood. She bought steel utensils during Dhanteras just as her 33-year-daughter Rippy now buys cutglass and household gadgets. Candles and even lamps made of wax were in vogue, the tokris had been replaced by "plates of sweets, covered with a crocheted cover," reminisces Renu. But there has never been any abstinence from non-veg or liquor. In addition to Biryani, Dahi bhallas and chaat is made that day. Rippy, on her part is totally at ease with fancy lights, tambola parties and the club culture. Celebrating Divali with a D.J is the order of the day for them now. And, of course, it is the ever-present Punjabi pop—the great unifier, whatever the festival.
For Satya Sharma and her joint family the way of Divali celebrations has been more or less the same down the generations. Since they are Radha Soamis, they do not perform Lakshmi puja. As Satish Sharma says, "I was born with my luck" So propitiating Laxmi is out but he allows the workers in his business establishment to do their puja. He might meditate a while longer. There is card playing and feasting as all the five brothers, with their wives and children get together. They all have separate businesses and run separate kitchens but get together by turns at each brother's house to party and play cards. The wives join them and there is a separate table for children to play cards. Friends are not needed as Divali is strictly for the 23 members of the family. Even Gaurav Sharma, representing the third generation, and his wife Shelly like to be with the family. New clothes and good food, yes but no rituals. It is Satya Sharma's modern and adaptable outlook that binds the family and infuses fun into all the festivals.
While almost all the senior citizens bemoaned the absence of traditional sweets and crass commercialisation of the Festival of Lights, the middle generation described the growing environment consciousness that has led to a reduced focus on bursting firecrackers. The youngsters, on their part, felt that since celebrations were almost an year-long activity, the festivals were just one of many occasions to cement family ties and experience the bonhomie that goes with the celebratory impulse. As one peppy teenager puts it, "I buy new clothes whenever I feel like it and don't wait for Divali."
The spirit and essence should remain intact, whatever the pace of life and lifestyles. We must give our children an insight into our rich cultural and mythological heritage, instead of just focusing on consumption and yet more consumption. Surprisingly, the Great Indian Family endures. — AN