Sunday, November 3, 2002

Ranga's Toon Tales
Zhu Rongji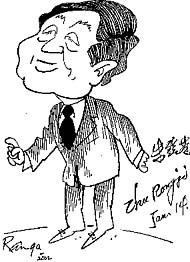 AN engineer-statesman who is considered to be a self-made man, Zhu Rongji was in Delhi in January 2002 on an official visit as Prime Minister of China. During his short stay in Delhi, he signed a number of agreement in the fields of tourism, peaceful use of outer space, water conservation, personal exchanges and science and technology. He was visiting Delhi a decade after the visit of his predecessor Li Peng.
Zhu had a busy schedule. He visited a number of places, including the Taj at Agra. He appeared to be a pleasant person. With his smile Zhu attracted many and a sketch of one of the most powerful persons in China was a must.
As he stepped out of the Raj Ghat where he had gone to pay homage to the Father of the Nation, Zhu was amazed to see his sketch. He brushed aside the protocol and the security to sign both in Chinese and in English.