'Ban MLAs, MPs from poll'
Amritsar, November 7
A former Jathedar of Akal Takht, Prof Darshan Singh Ragi, today advocated separating of "miri-piri" (spiritual — temporal) in Sikhism. Sikhism, he alleged, was being misused by political leaders for the past some time. Prof Darshan Singh, who was the Jathedar of Akal Takht during the peak of militancy in Punjab in 1986-1987, said politics had "contaminated" Sikhism and hence the two should be segregated to save the Panth.
Prof Darshan Singh Ragi, former Jathedar of Akal Takht, at a press conference in Amritsar on Thursday. — PTI photo
Notices to Chautala, Badal
SGPC poll: AISSF to deploy activists
Security tightened
SHSAD's 'politics of communalism' flayed

Index page
4 pro-Badal members debarred from voting
'Jail bharo' stir deferred till Nov 27
Visa not refused to me: Bhattal


Take action, demands Singla
Chandigarh, November 7
"I have neither been denied a visa by the US Embassy nor am I involved in any 'kabootar business', as alleged by certain conspirators and my detractors in the party," says Mrs Rajinder Kaur Bhattal, Agriculture and Rural Development Minister, maintaining that after joining the present government, she never even applied for a visa to the USA.
Amarinder to unfold new plans
Congress CMs' meeting at Mount Abu
Chandigarh, November 7
The two-day meeting of the Congress Chief Ministers' Council at Mount Abu beginning tomorrow will focus more on governance and less on politics though, the forthcoming Gujarat poll will induce political discussion as well.



Index page: Gehlot to score low, Capt high
BJP chief's rally now on Nov 13
Phillaur, November 7
Bharatiya Janata Party national president Venkaiah Naidu has advanced visit of Punjab from November 14 to November 13.
Poll roll revision extended
Ferozepore, November 7
The Punjab State Election Commission today extended the date of disposal of claims, objections and printing of supplements from November 8 to November 22 and final publication of electoral rolls from November 12 to November 29 for the forthcoming elections to the local bodies.


Hundreds taken ill in Tarn Taran area
Amritsar, November 7
Hundreds of residents on the Tarn Taran road have taken ill due to consumption of water supplied by the Municipal Corporation over the past two months.




Residents show dirty water at Guru Arjan Dev Nagar in Amritsar. — photo by Rajiv Sharma
Official given challan copies
Ropar, November 7
The court of Special Judge here today supplied the remaining copies of documents of the challan to Mr J.P. Singla, Deputy Director, Rural Development and Panchayats, Punjab, who is an accused in a case registered against Nirmal Singh Kahlon, former Rural Development and Panchayat Minister, Punjab, on June 14 by the Vigilance Bureau at SAS Nagar in connection with a recruitment scam in the department and other charges.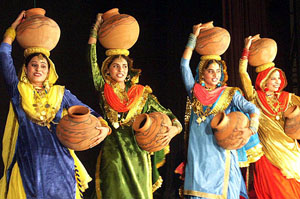 Girls carry earthen pitchers during a cultural function in Amritsar on Thursday. — Reuters
HIGH COURT
Notice on MLA's plea
Chandigarh, November 7
Mr Justice Hemant Gupta of the Punjab and Haryana High Court today issued a notice for November 11 on a petition filed by Punjab MLA Ranjit Singh Brahmpura for the grant of anticipatory bail or else seven days' notice in case a first information report (FIR) was registered against him.
Commonwealth award for Punjab youth
Chandigarh, November 7
Sarbpreet Singh has won the Commonwealth Youth Programme( CYP) Asia Award for excellence in youth work for the year 2001-2002. Son of a teacher couple, Sarbpreet had his initial education at Government school in PAU, Ludhiana, and later in Khalsa and Government Colleges, Ludhiana.
Panchayat directory released
Fatehgarh Sahib, November 7
Due to the continuous felling of trees and increase in the means of transportation, the menace of pollution has increased manifold, which has not only affected human lives but also disturbed ecological balance, said Dr Harbans Lal, Minister for Forest, here today. He was addressing a function at Sirhind after releasing "Panchayat Directory-2002", which bears variety of information regarding panchayats in the district.
'Analyse literary trend in Punjabi context'
Patiala, November 7
Noted Punjabi scholar Dr Satinder Noor said here today that recent trends in literature had been derived from western and capitalist countries and that there was a need to ponder over these thoughts in the context of Punjab, Punjabi and Punjabiat.
Villagers allege police harassment
Ferozepore, November 7
A few residents of the Chak Mauj Din Wala (Surghuri) village in Jalalabad tehsil have alleged that the local police is harassing them by implicating them in false criminal cases at the behest of Mr Hans Raj Joshan, local Congress MLA.
Rally against govt policies
Bathinda, November 7
Leaders of the Punjab Istri Sabha, Punjab Khet Mazdoor Sabha and the Sarb Bharat Naujawan Sabha today condemned the anti-people policies of the Punjab Government.
Journalism or infiltration bid?
Amritsar, November 7
Two motor cycle-borne Pakistani nationals were arrested by Border Security Force jawans as they crossed the international border, near Havailian BoP, 30 km from here yesterday evening.
Farmers asked not to pay power bills
Chandigarh, November 7
Six farmer organisations, which met here today, have given a call to farmers "not to pay power bills" of tubewells. The meeting was held under the chairmanship of Mr Maghar Singh Kulrian, president of the Kisan Vikas Front.


Dharna by employees' federation
Patiala, November 7
The Punjab State Services Federation, the Punjab State Electricity Board Employees Federation and the Punjab Kirti Dal led by former MP Charanjit Singh Walia held a divisional-level protest outside the office of the Commissioner here today in which hundreds of government employees and workers from the district of Patiala, Fatehgarh Sahib, Ludhiana, Ropar and Sangrur and Chandigarh participated.
2 SPs shifted
Chandigarh, November 7
The Punjab Government today cancelled the transfer orders of four SP-level officers and transferred two others.
Two murder cases solved
Muktsar, November 7
The district police claims to have solved two murder cases and has arrested the culprits. The district police chief, Mr Major Singh Dhillon, in a press note issued here today said that Prem Kumar, a resident of Kot Bhai, was murdered on November 9, 2000, and his body was dumped at an abandoned place.
Murder case solved; 2 held
Rajpura, November 7
The police today claimed to have solved a blind murder case involving the killing of a motor cycle driver who was travelling from Rajpura to Ambala. Two persons have been in this connection.
Cop held for looting
Amritsar, November 7
The Majitha police arrested two persons, including a police constable, for allegedly attempting to loot a house at Majitha today. According to an FIR, the accused in covered faces barged into the house of Balbeer Singh, a resident of Kohali village, when he was watching television.
Teenager gang- raped
Hoshiarpur, November 7
A case of gang rape of a teenaged girl of Alera village in the Talwara police station area was reported yesterday.


NCP: stop shifting of B.Ed College
Bathinda, November 7
The Nationalist Congress Party (NCP) today urged the Vice-Chancellor of Punjabi University, Patiala, to take steps to stop the shifting of Punjabi University College of Education (B.Ed College) from this town to Talwandi Sabo.