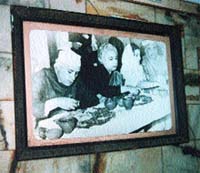 Pandit Nehru, Indira Gandhi, Vijayalakshmi Pandit dining in a shop in Old Delhiís Paranthewali Gali
In the years just after Independence, the law and order situation was safe enough to make Pt Nehru, Indira Gandhi and Vijayalkshmi Pandit to come all the way from their official residences in New Delhi to take their parantha meals in this gali. The owner of the "Pandit Dayanand Shivcharan" shop proudly displays the picture of the Nehru family having their food in his shop. Not long ago, late Loknayak Jayaprakash Narayan and our present Prime Minister Atal Behari Vajpayee were regular visitors. But now only a few old Delhiites and some tourists who have heard of the famous Paranthewali Gali come here. For them the welcome is sincere and you can have your pick of fresh ghee-fried parantha of 14 varieties.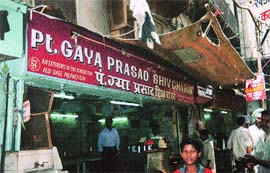 The Paranthewali Gali was once patronised by Atal Behari Vajpayee
I took my seat in one of the three (near empty) parantha shops and the owner proudly said that in its heyday, there were huge queues outside for the wonderful paranthas. The cheapest parantha today costs Rs 12 and the costliest one (paneer-stuffed) Rs 24. I ordered one of each and it came with very good pickles, potato curry, a vegetable side dish and the usual sliced onion and lemons. In the half an hour I was there, he sold about 20 paranthas and claimed that the daily sale is about 1000 paranthas. But he admitted that the business was not good.
As I enjoyed the ghee-laden tasty paranthas, I asked the owner for the reason of this decline. He was candid enough. With hundreds of cateries mushrooming in all parts of Delhi, paranthas were no longer exclusive food items, he said. "What can be done to rescue the Paranthewali Gali?" I asked him. He ruefully said that the future was bleak. The greatest danger was the skyrocketing price of real estate in the Dhariba Kalan area where the Paranthewali Gali was situated. The space occupied by the last three parantha shops is worth crores and the returns from parantha selling very meagre. Soon some cybercafes or wine shops might take over the century old food shops. Another problem is that the parantha shops have not been able to diversify to rekindle the interest of local gourmets.
Today from Kerala to Kashmir, there are hundreds of varieties of local paranthas. Restaurants like Only Paranthas in Bombay have as many as 88 types of this favourite "unleavened bread", while the Paranthewali Gali shops offer only 14 varieties.
Again, once the greatest attraction was, that only pure ghee is used to make the Paranthewali Gali products. Till few years ago, Devidayalís parantha shop offered a reward of Rs 1100 if anyone could prove that the ghee was not pure. But nowadays, with a calorie-conscious clientele, this main selling point is proving a millstone. The simplest parantha weighing 80 grams has 290 calories and the calorific value goes up to 500 and more depending on the ghee.
One innovation to increase the Paranthewali Galiís popularity would be to introduce non-vegetarian paranthas like Mughlai parantha which is a baida kheema layered one. But the three Brahmin-owned shops are not willing to make the change. They feel that it would be counter-productive, as many vegetarians shun places where non-vegetarian paranthas are made.
Another problem that is "looming" over these "true-to-India parantha shops" is that the multinationals are taking over the parantha industry. A KSA Technopak study pegs the parantha market in India at Rs 800 crore. The latest to hit the market right are of course Amulís frozen ones. Amul has announced a Rs five crore investment to dish out fried-in-desi-ghee, frozen, stuffed methi and aloo paranthas costing Rs 20 to 25.
Even for smaller entrepreneurs, it spells good business, like Delhi-based Grannyís Oven. With their USP being frozen paranthas, these firms do roaring business with holidaying NRIs and students about to go abroad. As such, the future of the three, over a century old shops in Paranthewali Gali is bleak. Once these parantha shops vanish, cuisine world in India would have lost a famous landmark forever.