So is it curtains to the fare that Balaji Telefilms dishes out? No, say observers. While traditional serials still hold sway over the middle and older viewership, these trendy shows appeal to the young and young at heart.
Once is enough!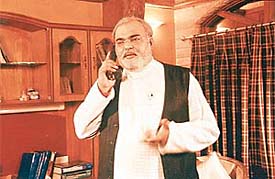 Pratap Singh as Modi in Chand Bujh Gaya
First came Ram Khilavan CM & Family, a supposed spoof on Laloo Yadav which was promptly ordered off the air by the courts. Now it seems to be the turn of another CM.
Ever since the little known Pratap Singh was selected to play Narender Modi in the film Chaand Bujh Gaya, his uncanny resemblance to the Gujarat Chief Minister has earned him an instant following and also an offer to play the CM in a TV serial.
Pratap Singh has reportedly declined the proposal saying that until he completes the film he is not going to consider any similar offer.
Much like Mani Ratnam's Bombay the Shariq Minhaz-directed Chaand Bujh Gaya love story set in the riot-torn Gujarat after the Godhara train carnage.
Says Pratap Singh, I don't want to repeat myself. It's not a great idea playing the same role twice.." Most would agree though some would say it isn't a great idea playing Modi even once!
Match-less Madhuri
Gossip mills are working overtime. Is Madhuri Dixit leaving Bollywood for good? If rumours are to be believed then the answer is in the affirmative.
According to the buzz the former queen bee of tinsel town is so flustered with the failure of Sony's online match-making show, Kahin Na Kahin Koi Hai that it has even taken away the joy of a huge hit like Devdas.
The distraught Madhuri is said to be accepting no new offers and is flying back to the USA to be with her husband. She is also reportedly disposing of all her property in Mumbai and is taking her parents along with her.
But industry sources are not overly worried. They cite the example of the seventies oomph girl Mumtaz who too turned her back to Bollywood and married a businessman in South Africa only to return after a few years.
"A fine actress like her can't stay away from the arclights for long," says a Bollywood observer. "One TV flop show is not going to derail her career." Though no one denies Kahin Na Kahin Koi Hai was a mismatch for Madhuri.
Picture this!
Though he may be wielding a camera but Benoy Behl is pursuing a call of the heart. For over one year now he's been photo-documenting ancient Indian art.
The second of the 26-part series titled The Glory Unfolds to be aired on Doordarshan shortly is a record of the Brhadisvara murals. Apart from these magnificent 10th century murals there are the scarcely-seen paintings of Kanchipuram's Kailashnath Temple (7th century), Ellora murals (8th-10th century) and 9th century Jain paintings of Sittananasal.
This is the first time that the ancient tradition of Indian paintings has been presented visually. The film also traces the spread of the art and techniques used in ancient India through the oldest known treatise of painting in the world, the Vishnudharmottara Purana.
The series offers a new dimension to the understanding of Indian art, says Behl who has had many of these photographs digitally restored as they have suffered discolouration, defacement and other natural processes of deterioration.
Watch out for the telecast date. This is a not-to-be-missed opportunity to view the great art of Indian in its original glory.
Prime-time joke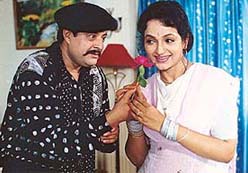 Idhar Kamaal Udhar Dhamaal: 25 going on 50?
Most viewers had thought that it would not survive its initial run of 13 weeks, but some serials have a way of springing surprises.
P. Bisawa's comedy Idhar Kamaal Udhar Dhamaal on DD-Metro, Thursday, 7 p.m. has just celebrated its silver jubilee and from the look of things it is now heading for gold.
Revolving around a guy and his 15 relatives who have a seemingly never-ending capacity to crack jokes, the serial makes a rather limp attempt at comedy.
Despite a competent star cast comprising Upasna Singh, Vijay Gokhale, Gajendra Chauhan and Rajshree Solanki, comedy is at a premium here. But then viewer response can sometimes be unfathomable.
Food for the eyes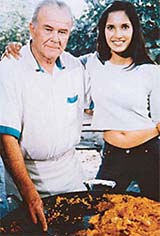 Planet Food: Anchor Padma Lakshmi's culinary journey
Foodaholics can now embark on an exotic journey full of flavourful delights, cooking tips and diverse cultures with the Discovery Channel's Planet Food every Friday at 12 noon.
Hosted by food writer and international model Padma Lakshmi, each episode travels to a region of the world renowned for the richness and variety of its cuisine. Padma engages knowledgeable and entertaining local characters to act as guides on her culinary journey.
From exotic recipes to essential advice on food etiquette to the best local places to eat, viewers get more than just a taste of travel. Here they'll be travelling with taste!



— Mukesh Khosla