Tuesday, November 12, 2002, Chandigarh, India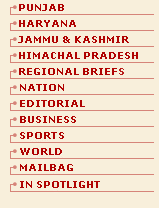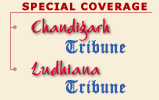 H A R Y A N A
Scene shifts from Balasar farm
Balasar (Sirsa), November 11
The palatial farmhouse of former Chief Minister Parkash Singh Badal spread over hundreds of acres and dotted with sprawling lawns and a swimming pool, which remained the hub of Akali politics for weeks together, today wore a deserted look.
Middle exam pass percentage 66.46
Bhiwani, November 11
The overall pass percentage of the Middle Supplementary Examination, conducted in September by the Board of School Education Haryana has turned out to be 66.46. The result of this examination will be declared tomorrow.
Tubewell connections within a month
Chandigarh, November 11
The Dakshin Haryana Bijli Vitran Nigam has envisaged a plan to give tubewell connections to consumers within one month of the receipt of test report.
Bhaniarawala case adjourned
Ambala, November 11
The Chief Judicial Magistrate, Ms Sarita Gupta adjourned the hearing in the Baba Bhaniarawala case for November 23. One of the accused in the case Ashok Kumar surrendered in the court today. He was later remanded to judicial custody. The Patiala district court had issued a non-bailable warrant against Ashok Kumar.
TRIBUNE IMPACT
Bluebull calf finds home at last
Panchkula, November 11
The Haryana Wildlife Department authorities finally woke up to its responsibilities after the plight of a bluebull calf, being reared by three migrant labourers in Saketri village, was highlighted by Chandigarh Tribune in these columns.
CME concludes at MH
Ambala, November 11
The Continuing medical education programme being held at Military Hospital, Ambala Cantonment concluded yesterday. Chief guest, Major-Gen R.P. Singh inaugurated the scientific exhibition and released the brochure of CME-2002.

Stories from Haryana towns falling in the National Capital Region are put in NCR Tribune.
SGPC members' kin allege harassment
November 11, 2002
Cheques given to kin of Jaguar crash victims
November 10, 2002
HPCC: Surjewala too feels ignored
November 9, 2002
Haryana Cong to seek Sonia's help
November 8, 2002
No pullout from J&K: Swami
November 7, 2002
One killed, 4 hurt in mishap
November 6, 2002
93 MITC employees' salaries not paid
November 4, 2002
Surjewala may sue UT Administration
November 3, 2002
Sushma inaugurates DD kendra
November 2, 2002
Surjewala, Mann court arrest
November 1, 2002