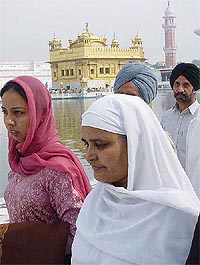 Former SGPC President Bibi Jagir Kaur with supporters arrives at the Golden Temple on the eve of SGPC elections, in Amritsar on Monday.
— PTI
Police entry: NCM seeks report
Jalandhar, November 12
Taking a serious view of the developments in Punjab, particularly the entry of the police into the Golden Temple complex, the National Commission for Minorities has sought a detailed report from the Punjab Chief Secretary.
HIGH COURT
Punjab denies stopping visitors to Temple
Chandigarh, November 12
The Punjab and Haryana High Court today dismissed a petition, registered on the basis of a telegram, alleging that the devotees were being stopped from visiting the Golden Temple, after Punjab's Advocate-General denied the allegations, claiming that the security arrangements had been made in and around the election venue only.
Explanation sought

Compensation
SGPC stories from other pages
Index page:


Badungar re-elected SGPC chief
Wins by 23 votes *Mann group abstains *Votes of 12 debarred members not counted


SGPC wants 'tankhah' for Capt

CM on Golden Temple complex and SGPC poll

NEWS ANALYSIS: This 'win-win' game at Golden Temple complex
Nation page:


CM's actions may affect Punjab politics: Jaitley
Ludhiana page:


Central jail bursting at seams


'Amarinder should resign'
Bhattal fails to appear in court
Bathinda, November 12
Even as former Chief Minister Rajinder Kaur Bhattal, who has been facing trial in the court of the special judge here in a case pertaining to corruption and embazzlement, failed to appear in court today.
Bank told to pay relief
Mansa, November 12
The local District Consumer Disputes Redressal Forum has ordered the local branch of the Indian Overseas Bank to pay Rs 2000 as compensation and Rs 1,000 cost. The forum also directed the bank to pay interest at the rate of 15 per cent per annum from the date of deposit of the cheque till the compliance of the order.
Punjab announces literary awards
Patiala, November 12
The Punjab State Languages Department today announced the Sarvottam Sahitik Puraskars on the eve of Language Week celebrations with the Bhai Veer Singh award going to Dr Gurcharan Singh Aulkah for his book "Inqalabi Shaheed Udham Singh".
Police remand for Pherurai
Patiala, November 12
A local court today remanded former Ferozepore SSP Gurcharan Singh Pherurai in police custody till November 15 following the filing of an application in this regard by the Vigilance Bureau.
2 killed, 4 hurt in mishap
Sunam, November 12
Two persons were killed and four others were seriously injured when a Tata Sumo (PB-31-C/4496) and a Maruti car (DDD-8793) collided with an Army vehicle last night on the Bathinda road here.
CPM organises camp against corruption
Ropar, November 12
A camp on drive against corruption was inaugurated by Mr Gurdial Singh Dher, district unit secretary of the CPM, at the district judicial complex here today. The camp will be held here till November 15. Affidavits and complaints will be received from the public against corrupt officials.
Gurdwara langar hall lintel today
Zirakpur, November 12
The lintel of the langar hall building of Baoli Sahib gurdwara will be laid here tomorrow at 10 a.m.
Trust to carry on Tiwana's work
Patiala, November 12
Play House, the residence of Punjabi theatre legend Harpal Tiwana, who died in a road accident this year, came to life yesterday. A trust is being formed to carry on his work.
Privatisation 'to hit SCs, BCs'
Bathinda, November 12
Mr Hans Singh, state secretary, All-India confederation of the SC, ST and BC organisations in a statement issued here today alleged that the government was bent upon selling the public sector undertakings to end caste-based reservations.


Nod to farm training programmes
Jalandhar, November 12
In its bid to stimulate the ongoing crop diversification process by striking closer farmer-agricultural expert relations, the Punjab Agriculture Management and Extension Training Institute has given its nod to the initiation of several new farm utility-oriented training programmes for farm experts.


DC's raid finds 33 officers absent
Muktsar, November 12
As many as 33 officers and employees of different departments, including eight Sub-Divisional Officers of the Irrigation Rajasthan Feeder and other departments were found absent during a checking conducted by the Deputy Commissioner, Ms Usha R. Sharma, today.
Plea to delete 'double votes'
Ropar, November 12
Mr Narinder Singh Sitta, a former honorary secretary of the Punjab and Haryana Bar Council, and a candidate for the forthcoming Bar Council poll, along with another candidate, has urged the Returning Officer to delete the "illegally"-entered double votes of advocates in the voters' list.
16015 challans for traffic violations
Ropar, November 12
The Ropar district police has issued 16015 challans for violating traffic rules during the past 10 months throughout the district. An amount of Rs 34,43,655 has been realised as fine up to October 31 from these violators. The fine had been imposed by different courts.


Rs 3 lakh looted from bank
Chak Gujjran, November 12
In a broad daylight robbery which has sparked fear in the Doaba region, a group of about 12 armed scooter-borne robbers attacked an extension counter of a bank here, thrashed employees, and took away about Rs 3.1 lakh after threatening the staff that they would face dire consequences if they revealed anything to the police.
3 transport firm employees held
Ropar, November 12
The police today arrested three employees of a transport company from the local bus stand allegedly for abusing employees of the Ropar Depot of the Punjab Roadways and creating nuisance. An Inspector of the company along with others, however, fled the scene. A case under Sections 107/150 and 107/151 of the Cr. P.C. was registered against the accused.
Blind murder case solved, one held
Moga, November 12
The Moga police has solved the blind murder case of Kotkapura-based businessman Mukand Singh, stating that one of the accused, Darshan Singh, had been arrested last night. This was stated by SSP Shiv Kumar here today.
Kidnapped boy's body found
Moga, November 12
The Faridkot police has recovered the body of Bimal, a six-year-old schoolboy who was kidnapped from Kotkapura on November 7. After being hacked to death, his body was thrown in the Rajasthan feeder.
Woman dies in family dispute
Bathinda, November 12
A woman was killed yesterday in a family dispute in Kotfatta village, 25 km from here. Gurvinder Kaur was shot last evening by her brothers-in-law.


Punjabi varsity youth fest begins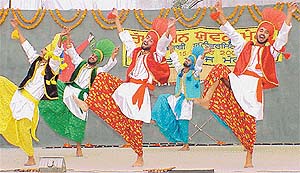 SAS Nagar, November 12
A four-day zonal youth festival of Punjabi University began at Government College here today. The festival, in which 19 colleges are participating, was inaugurated by Mr Khushal Behal, Minister for Education, Punjab.
Students participate in a bhangra competition held as part of the Ropar Zonal Yuvak Mela at Government College, Phase VI, SAS Nagar, on Tuesday.
— Tribune photo Parvesh Chauhan
PU zonal youth fest results
Jalandhar, November 12
Government College, Hoshiarpur, and MBBS Girls College, Mansowal, bagged first positions in quiz, poetical recitation and debate contests, respectively, on the second day of Panjab University Zonal Youth Festival under way at G.G.D.S.D College in Hariana in Hoshiarpur district.