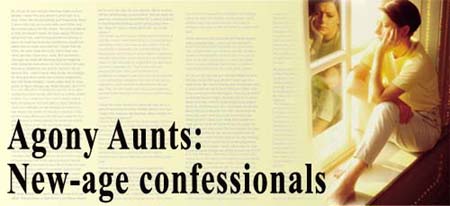 Agony Aunts are, undoubtedly, capable of captivating the interest of readers and probably successful in contributing their mite to the readability and saleability of a magazine. But do they actually provide an antidote to the emotional, mental and physical ailments of the respondents, asks Gitanjali Sharma
More dope on the dope scam
K.R. Wadhwaney
SUNITA Rani, an uncut diamond of Indian athletics, has been more sinned against than knowingly sinning. She has been a victim of circumstances in the jungle raj of Indian athletics in which high and mighty officialdom rules over the innocent lives of athletes who undergo pains for social climbers to earn glory.
ARTIST'S FORUM
Art & culture can help heal Gujarat
V. Gangadhar
"HATRED spreads more easily than love, particularly when the state and certain sections of the media incite people," laments noted kathak dancer Kumudini Lakhia, director of the Kadamb Centre for Dance, Ahmedabad. She added that artistes of Ahmedabad and the rest of Gujarat were united in fighting the communal menace.
ACHIEVER
Success on the slopes
R.C. Ganjoo
SKIING is a passion and the first love of Hafeeza Hussan. And her favourite playing field—Gulmarg. "Till I am alive, I will never stop skiing. I have been on these slopes for the last 25 years," says Hafeeza, who is the first Kashmiri woman to represent India in first Winter Asian Games held in Saparo, Japan, in 1986.
Stress test
V. K. Kapoor
ARE you under stress. Do you feel pressurised at work? Complete the burnout inventory below and find out. For each statement below, write a T if that statement holds true for you and F if it doesn't.