"They came all the way to Ladakh hoping to carry back with them the seed of what is believed to be the purest survivors of the Aryan race. These sophisticated young ladies from the western world, incredibly enough, were not only willing to but eager to have sexual intercourse with these tribal males. I suspect the tribal males would have also been glad to have sex with these white blondes, bored as they perhaps might be of circulating with their own women-folk. But what the German girls probably did not know was when to come. They were unaware of the festival of fertility until they visited Ladakh. Whether the tribal women would have allowed their men to sleep with these foreigners will remain a question mark......"
I am told that some German visitors have succeeded in adopting about six children with the promise of bringing them up and giving them modern education in Europe.
A number of German scholars come here to do research on the life of the people and the dos and don'ts of their conservative society. The Aryans are not a large community. They number around 5,000 or so and are mainly confined to a cluster of seven villages located down the Indus, between Khalatse and the Shayok-Indus confluence. The inhabitants are known as Drok-pa, a Buddhist name. They have preserved their racial purity down the centuries.
Major Ahluwalia states that these Aryan tribals "do not have the Mongolian features so commonly present in this mountainous region. They are tall, well-built, with large eyes and sharp aquiline noses and full beard. The women are also extremely beautiful. The men, women and children wear heavy metallic earrings through holes pierced in their earlobes. Again, all, irrespective of sex and age, wear long pigtails and cover their heads with colourful caps decorated with wild flowers. Their clothes, made from home-spun wool sheared off from their sheep, are also colourful."
The Aryans zealously guard their traditions, though everything seems to be under strain in recent years. The old order is surely changing, though slowly. The new order is yet to take shape. The joint family system is still in vogue. The sex-ratio is well-balanced. But signs of changing times can be noticed with the opening of the place to visitors and the spread of education. Inter-caste marriages are rare, but they do take place because of new socio-economic compulsions.
There was a time when the Aryans used to worship the sun, the moon and water. Their cultural and religious practices are very much akin to the pre-Buddhist period animist religion known as Bon-chos.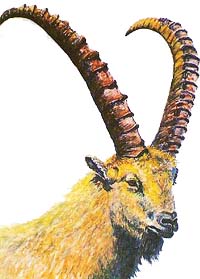 The ibex forms part of the Ladakh Scouts' emblem
They have, by and large, preserved their ancient traditions and ways of life, including folklore, songs and hymns. One of the folk-songs relates to an ibex-hunt. It may be recalled that the ibex is particularly sacred to them. Incidentally, the ibex is part of the Ladakh Scout emblem. Another folk-song recalls the Aryans' migration from Gilgit. In fact, their language is akin to the spoken language of Gilgit. From Gilgit, they settled in Dras.
One major component of the Aryans' rich tradition is the triennial Bona-la festival. This is a harvest-time celebration. Each person owns five to six kanals of land. Being agriculturalists, they grow two crops a year. Among the fruit varieties, apricots, apples, walnuts and grapes are grown. This crop-cum-fruit economy has made their life somewhat livable.
The Aryans are mostly Buddhists with some distinctive touches of Tibetan culture. The people I met were sore at the lack of educational facilities. The absence of schools in villages, they feel, has hampered their growth.
There is a shortage of teachers in Ladakh which comes in the district of Kargil. I understand that the teachers who come twice a week from Kargil teach only Urdu! One heartening development is the recent setting up of a Sainik School in the area.
The Aryans love singing. Their major festival is Loasar, which takes place some time between December and January, depending on the position of the stars. Interestingly, the birthday is celebrated once in a cycle of 12 years. And it is always a major community draw.
Marriages are generally arranged and are mostly confined to their known village circles. During festive occasions or at the time of marriages, the Aryans love to flaunt special flowers called Shuklo Mentog on their caps or chest. There is no dowry system. However, the bridegroom generally gives the girl silver ornaments and cattle.
I met a delightful Aryan couple—traditional, yet forward-looking: Tsewang Namgyal and his wife Namgyal Zangmo. Their marriage was solemnised in a court. Such practices are exceptions.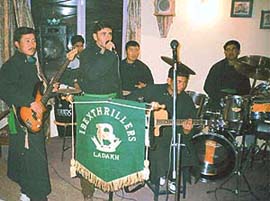 The Ladakh Scouts band playing at the Leh Army officers' mess
Namgyal is a highly talented person. Employed in the Ladakh Scouts, he sings and plays some instruments in the scintillating band of the Ladakh Scouts.
Interestingly, Tsewang Namgyal has as many as eight albums of Ladakhi songs to his credit. It was a fabulous treat to listen to his Ladakhi and Hindi songs. Some other talented persons were equally at ease with English songs.
Looking back on his success story, Tsewang told me how he was picked up by a producer of Zee Music in Leh and taken to Mumbai for recording of his songs. He roughly makes Rs 30,000 per album. He prefers to write his own songs.
To my query on his source of inspiration, he says: "My inspiration is my wife." How truthful! A lovely Aryan belle can indeed launch a thousand poets!!
The popular drink is Chaang, made from grapes.
* * *
I have said earlier in my first report on Leh, which appeared on the front page of The Tribune (October 27) that Ladakh is witnessing a silent social revolution. And the credit for this quiet success goes to the Indian Army, especially to the units which come under the banner of Ladakh Scouts.
The Scouts has a proud record in bagging several top gallantry awards. The officers are drawn from all parts of the country. The local youths are, however, the backbone of the Ladakh Scouts.
"They are outstanding and fighting fit. They can run fast on this high attitude terrain and give hell to armed intruders from across the border, if need be," Col. Amarjit Singh, Commandant of the Ladakh Scouts, told me here.
This was confirmed by Lt. Gen Ashok Hukku at Chandi Mandir near Chandigarh. He actually prompted me to visit Ladakh and see and understand the people and the terrain. My only regret is that I tried to pack everything in four days or so when the minimum of three days is required to get acclimatised. The journey from Chandigarh/Delhi to Ladakh over the snow-capped mountain ranges is itself quite an exhilarating experience.
Says youthful Alliance Air pilot Summant Mishra: "Leh is a unique destination, completely in harmony with nature. It is very appealing to the human quest for adventure. I certainly enjoy flying en route over the lovely mountains."
But more than nature, Ladakh is crying for special attention, not to thrust upon the people the evil of modern civilisation, but to modernise the people's outlook by ensuring infrastructural facilities, proper education and development which alone can give a better standard of living to the Ladakhis.
The life here need not be part of the broken strings. It can flow smoothly with caring attitudes and by opening up new avenues of development to the local citizens.
Well, I can only recall what William Wordsworth said about Daffodils: They flash upon my inward eye which is the bliss of solitude! (A typical Buddhist thought indeed!)