Sachin twice over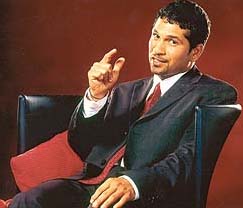 Sachin on ESPN-Star Sports: A good shot indeed.
He's no stranger to television and can be seen in a wide range of ads. Now you can hear Tendulkar speak about one thing he's famous for — cricket. For the first time ever, millions of sports fans will have the opportunity to get into the mind of the cricketing genius.
Tendulkar opens his TV innings on ESPN- Star Sports, with two shows — India Vs Tuesdays 9 p.m. and Sachin Speaks On World Cup Stars Thursdays 8.30 p.m.
In India Vs he provides his perspective on various teams and examines India's chances. In Sachin Speaks On World Cup Stars, he assesses cricketers who can make a crucial difference to their team's performances.
The show also features a galaxy of stars including Carl Hooper, Heath Streak, Stephen Fleming, Chris Harris and Allan Donald who offer insights on cricketers.
So, it's time to pad up as Sachin sets the ball rolling in a run-up to the World Cup.
All in the family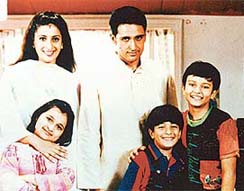 Hum Hain Kal Aaj Aur Kal: Let the fun times roll.
It's a noontime comedy that sets the mood for the day. Life's on a roller-coaster for the Pathak family which has had two recent weddings. The fun times don't roll for the Parivar members who have a weird sense of camaraderie — they think nothing of invading other people's privacy.
Hum Hain Kal Aaj Aur Kal, telecast on every Saturday on Star Plus at 12 noon takes a dig at the Pathak family where Rishi and Rahul have just been married to Rashmi and Ritu, respectively. The couples are gifted an apartment each in the same building and they begin setting up their new homes with love and warmth.
But their dreams turn nightmarish when family members start barging into each others' houses at all odd hours. Soon this love and affection gets too close for comfort and the couples are endlessly on tenterhooks. Craving for privacy, they start running for cover from their kith and kin.
No one realises that the sense of fun has become a hellish experience for the couples and they go on regardless of the trauma they are causing each other. And that's when things start hotting up in this mild mid-day comedy.
Cops on a song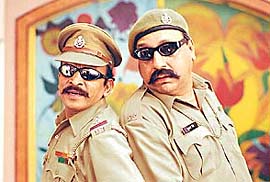 Kapoor & Pandey in The Countdown Show: Fun & songs
Time was when two dudes from Punjab — Satish Kaushik and his Paahji Pankaj Kapoor — set the tone for a side-splitting Top-10 countdown show on Zee.
Now three years later, the scene has shifted to neighbouring Haryana but en route, the show has lost its sheen. That's because Annu Kapoor and Sudhir Pandey are no match to the hugely gifted original duo.
The Countdown Show every Friday at 8.30 p.m. on Zee revolves around two Haryanvi cops—senior Inspector Balwan Singh and Hawaldar Sukkad Singh. They've been posted together at various police stations and no crime takes place during their tenure anywhere. The FIR register is totally blank.
And this becomes a matter of serious concern when a new DCP, who is convinced they are on the take from criminals. He threatens to demote them if they fail to register 10 cases every month. In desperation they start seeking bad elements and beg them to commit crimes so that they can register complaints. But to no avail.
Every week the two bumbling cops adopt cunning ploys to snare people into crime. And this leads to some rib-tickling situations interspersed with songs. Though not as funny as the original version, this is worth a dekko.
Doctor in trouble
When a serial is set in God's own country it is not surprising that there is an element of the supernatural in the script.
Goonj Ateet Ki, telecast on every Wednesday at 8.30 p.m. on Sony Entertainment Television is a family drama with Kerala as the backdrop. It revolves around the life of a young Mumbai doctor Revathi who agrees to marry Mohandas, who is from a small Kerala village.
On the first night, Revathi is shocked to see Mohandas suffer from a violent fit. Next morning she confronts the family and threatens to leave. When her in-laws beg her to stay, she agrees and takes upon herself to cure her husband.
The serial produced by Anita Kanwar and scripted by Sutapa Sikdar of Banegi Apni Baat is both dramatic and poignant. Directed by Leena Yadav, it stars Surekha Sikri, Ritu Raj Singh, Payal Nair, besides Kanwar herself, in a key role.
Despite producing the serial Kanwal herself acts in the key role. In fact, she has not hung up her acting boots and is also doing Kalpana Lajmi's forthcoming film, Kyon. But right now she is all charged up about her new serial Goonj Ateet Ki which will grip you from the word go.
High flier
What do you get when you cross a childhood love of soaring birds and a $100,000 prize? Unparalleled motivation, says Paul MacCready, the genius inventor of the first human-powered airplane.
Watch the four-time soaring champion MacCready take wing like a bird in Flying Free on Monday, November 18 at 10 p.m.
MacCready credits a childhood love of soaring birds and a $100,000 prize with stimulating his now-legendary career of aviation invention.
From that early aeroplane, celebrity host Alan Alda takes us to newer heights with MacCready's firm Aero Vironment and its recent creations — a giant solar-powered flying wing that might one day provide an alternative to satellites.
— Mukesh Khosla