Khushi is on the way for Fardeen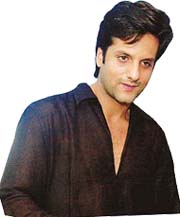 Fardeen Khan's career may not have enjoyed an upswing but his star presence is undeniable. In fact, the cocaine controversy seems to have added to his wild charisma.
Though Anupam Kher's Om Jai Jagdish, may have not done much for the actor, the Khan prince is positive about his role in Boney Kapoor's Khushi. The film which is a remake of the South hit, similarly titled, is directed by S.J. Surya and co-stars the formidable Kareena Kapoor. Fardeen, confident that the film which is, 'a love story with a difference,' vouches that it will be a trendsetter with its novel theme. The no-villain film has only the egos of the madly-in-love lead players providing dramatic conflict. Known to have a soft-corner for his heroines, Fardeen says working with Kareena was, 'a cherishable experience.'
Rekha idolises Sophia Loren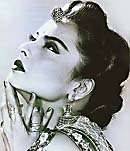 The ageless role model of women, the original spice girl of Hindi cinema, Rekha, idolises Hollywood legend Sophia Loren. With a wee bit of journalistic investigation, we could read the parallels between the foreign and desi icons.
Like Sophia, who was chided for her too-broad hips and too-wide-a mouth, Rekha also was dismissed as dark, fat and ugly in her initial days. Like Sophia, who came from an Italian background, had a problem with English, Rekha too who was a product of the South, had a problem with Hindi.
Both persevered to enhance and rectify their features with corrective make-up techniques and gave sensuality a new definition. Topping this with improvised acting, both became the stuff of fantasies. The two women are known to have shared obsessive love for their mothers and the men in their lives, men who helped them shed layers of crass and shine through with sophistication. If Carlo Ponti discovered the subtle Sophia, Rekha has unabashedly declared the electric influence of Amitabh Bachchan on her life and art. Despite mega glamour and fame, both the women remained essentially true to their roots. Sophia continued to do Italian films and never gave up her girl-from-Naples accent. Rekha too has been protective about her Kanjeevaram sarees, gold chunks and gardens-in-her hair appearance.
Above all, the femme fatales have lived life according to their own rules, similar in their pro-love stance and intriguing in their elusiveness.
Leisure media News