Friday, November 22, 2002, Chandigarh, India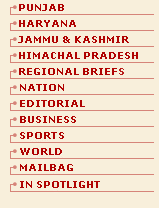 C A L E N D A R
Friday, November 22, 2002
Vikrama Samvat
2059
Margasheersha
7
Shaka Samvat
1924
Margasheersha
1
Hijri
1423
Ramzan
16

Margasheersha Krishna Paksha Dviteeya up to 10.12 a.m.
The second lunar day of the dark half of Margasheersha.
Mrigashira Nakshatra up to 11.20 p.m.
The moon enters Gemini at 10.35 a.m.
Beginning of Bhadra at 10.45 a.m.
Mars enters Libra at 7.30 a.m.
Sayana sun enters Sagittarius at 5.0 p.m.
Soubhagya Sundari brata.