ARTSCAPE
She electrifies the canvas with the energy of colours
Garima Pant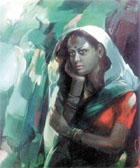 S. Pranam Singh's "Solitude".




"Beauty Lies in Peace" by Puja Srivastava




Sujata Bajaj's "Energy" flows in colour.




Beauty in marble & metal.




"Ambitious in our Desire", the artist's perspective on the world.
An exhibition of paintings by Sujata Bajaj is on view at Sridharani Gallery at Triveni Kala Sangam till the 27th of this month. Her present works are in mixed media and acrylic. She began her journey with research in tribal art in the remote villages of Rajasthan, Orissa and Maharashtra and developed a fad for concepts and traditions of ancient but living India. Her interest in contemporary painting led her to France where she joined Beaux Arts. She has held very successful shows in Paris and Norway, which have added to her poise a great deal and transformed the colour of vibration in her art. She possesses and presents great sensitivity to colour and space and her works are an epitome of energy. She has worked with different art forms and media such as etching, wood-cut sculpture, murals, cold ceramic, fibreglass, metal etc. Her works are included in national, international, private and public collections and both the national and international media closely observe her creations.
Expressing inner self
The latest prints by Sanjeev K.Goutam are on display at the Lalit Kala Academy till November 24. This Banaras Hindu University (BHU) graduate uses art to express his innate inner self. He took up painting because the colours of the rainbow and the endless sky fascinated him and till date he is far more attracted to real objects. According to him, " It is my presumption that my sensitivity to work expresses inner feelings of a common man, his broken expectations, desires, ignoring the muted relationship into fragments. My prints reflect the inner feeling in various forms in continuity. It reminds me that I am an introvert."
Mysticism in art
Beautiful, ornamental creations greet art enthusiasts as one steps into gallery number 6 at the Lalit Kala Academy. It is an exhibition of gold paintings and relief works by Jyoti Shah. She specialises in the art of gold paintings of Lord Krishna, other gods and goddesses and relief work. She uses fine 24-carat gold plating and other invaluable jewels to add a unique glow and mysticism to her works. Her series of relief works, which is a very painstaking job, brings to life a series of day-to-day objects in utmost reality. The exhibition will be on till November 23.
Artists and their strokes
'Octave', an exhibition of paintings, sculptures and installations, is on at gallery 2 & 3 at Rabindra Bhavan till November 24. It is a group exhibition showcasing the works of eight well-known artists belonging to different parts of the country, each having a distinctive style of his or her own. The artists include Harsh Vardhan Sharma, S.Pranam Singh, Ravinder Jamwal, Madhukar Wanjari, Tuka Jadhav, Raghu Neware, Shyam Sharma and Mandira Chatterjee Sharma. S.Pranam Singh in his works explores the streets of his beloved Benaras or Varanasi. His extremely realistic images transport the onlooker onto the lanes and bylanes of the beautiful and majestic city. The famous artist Harsh Vardhan explores the relationship of man with his nature and surroundings. Ravinder Jamwal's sculptures in wood and resin attract attention. Wanjari Madhukar works in white and pink marble and his metal sculptures add to each other's existence and value and breathe life. All works are marvelous pieces of artistic energy and evolution and provide the onlooker with great and enriching experience.
Rich fusion of colours
It's a 'Fusion of Thoughts and Colours' by Puja Srivastava, her first solo art exhibition that presents a very rich and exquisite array of works. The exposition, on at the Lalit Kala Academy till November 24, has beautiful and striking paintings, a definite addition to the rich art arena. She presents forth a compilation with new thoughts and ways, which is a definite plus keeping in mind her young age and inexperience. She has done her B.F.A (Painting) from the College of Arts, Delhi University, and has taken part in a few group shows. She is at present working as a designer in a leading glass tiles company. Her works have an appeal that makes one stop, watch and think!