Sunday, November 24, 2002, Chandigarh, India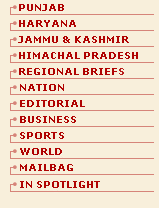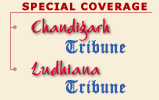 PU to study rejected appointments
Chandigarh, November 23
Following an order of the Punjab and Haryana High Court, Panjab University has decided to re-look into the appointments rejected earlier (December 2000). The appointments under consideration had been made during the tenure of Prof M.M. Puri, the last Vice Chancellor.
'Seat sharing' bares chasm between Cong units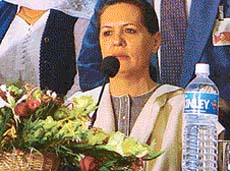 Chandigarh, November 23
The All-India Congress Committee president, Ms Sonia Gandhi, was a witness to the rift between workers of the Punjab and Chandigarh units of the party here today.


The All-India Congress Committee president, Ms Sonia Gandhi, addresses party workers of the UT and Punjab units, in Chandigarh on Saturday. — Photo Manoj Mahajan

Separate cadre of docs mooted
November 23, 2002
Traders' bandh near-total in city
November 22, 2002
Division among traders over today's bandh
November 21, 2002
Resident doctors on warpath
November 20, 2002
Nagar kirtan palanquin falls on teenagers; kills 1, hurts 5
November 19, 2002
Delay in exam causes chaos
November 18, 2002
List of constructions around defence installations sought
November 17, 2002
Infosys to set up Rs 100 cr centre in city
November 16, 2002
No change in Admn stand on Rent Act
November 15, 2002
Cop lands in CBI net for taking Rs 5000 from woman
November 14, 2002