Sunday, November 24, 2002
Lead Article
Suspense propels this tale
Ervell E. Menezes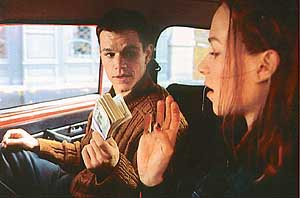 The Bourne Identity is a perfect spy film
WHEN a body is rescued at sea and the man (finally alive) doesnít remember his identity it is ideal stuff for a spy film. And when this fugitive on the run meets up with an equally enigmatic female the fare is doubly suspenseful. Thatís the recipe then of The Bourne Identity, the quintessential spy thriller based on a Robert Ludlum novel.
Remember seeing Osterman Weekend in the early 1980s, another of Ludlumís novels, and though it wove around a host of characters and kept the suspense alive the end was a bit of a let-down. Not The Bourne Identity, it is the perfect spy story.
The fishermen who pick up Jason Bourne (Matt Dammon) with two bullet wounds in his back give him enough money to reach Switzerland. But the amnesiac Bourne is all at sea about this identity. "I donít know who I am," is his anguished cry and so he sets out for the American embassy. But he is being shadowed. Could it be the CIA? And then he meets a wayward spirit in Marie Kreutz (Franka Potente, the Heroine of Run, Lola Run) and their cup of woe overflows.