Celebrity song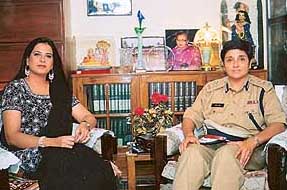 Pratibha & Kiran Bedi in Jeevan Ke Pal Do Pal
Itís the age of the celebrity. Simi Grewal has her rendezvous with rich and famous week after week on Star Plus. Faroukh Shaikh invites a personality over every week in Jeena Isi Ka Naam Hai. Now DD Metro too is getting star struck.
Jeevan Ke Pal Do Pal every Saturday at 1.30 p.m. on DD Metro is a cut between a chat show and movie songs. So, instead of the usual comic interludes you have a personality talking about his or her life in between filmi songs.
"Itís different", gush producers Ramesh and Rajender Tiwari. "We donít play any old song but that which matches with the life of a personality."
And who are the personalities? Get ready for the surprise. It is the virtual whoís who, including Samajwadi leader Amar Singh, Indiaís first woman cop. Dr Kiran Bedi, Najma Heptullah, Talat Aziz, Uma Bharti, Arun Jaitley, Bal Thackerey, Daler Mehndi, Amjad Ali Khan, Birju Maharaj, Nawab of Pataudi and more.
Are celebrities so TV struck that they are ready to discuss their private lives and even sing a song or two? Not really. Here the magic wand seems to be in the hand of Pratibha Advani, anchor of the show and daughter of L.K. Advani who has single-handedly made it an eminently watchable show. So, if youíve got the clout youíve a sell-out!
Aah Archana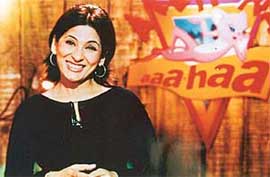 Archana on Archana Aaa-Haa: All about stars
Sheís back to doing what she used to do best ó ad-libbing. And the good news is that Archana Puran Singh can still pull off a show.
Archana Aaa-Haa on Zee TV every Sunday at 10.30 p.m. is a stand up comedy show that would keep you regaled with its jibes, leg-pulling and sizzling gossip.
The all-spice Bollywood show is divided in four parts. The first starts with a short stand up, setting the mood of the show, the topics are varied but essentially non-political, but has Archana doing her characteristic rip-offs.
Then there is the Aaa-Haa Kya Scene Hai segment. This varies from actor specials to thematic-romance, tragedy and comedy. The third is a peek into the lives of celebrities and the fourth has Archanaís trade mark Aaa-haas and Na-Naas list. In short, if you are not up with gossipy film magazines, the show promises to fill that void in your life!
Sonuís prize show
It may have been panned by critics as puerile and inane but among the young viewers no one can deny its enduring appeal. Karaoke show, Kismey Kitna Hai Dam Aaj Dekkhenge Hum every Thursday at 9 p.m. on Star Plus.
Now with the Asian Television Awards having nominated host Sonu Nigam as the best entertainment presenter, the show has in a way received a stamp of approval.
The award covers 23 countries throughout the Asian region. With an international jury, the challenge of fair judging is extremely difficult with no common language. Which is why the event carries a certain weight around it.
Sonu and co-anchors Hussain and Gul Panag, pump energy into the show singing and dancing with celebrity guests mainly from television. His mimicry, talented singing ó he can sing in both male and female voices ó and energetic stage presence go a long way in powering the show that has been clocking a TRP of 7 plus week after week.
Quest for creativity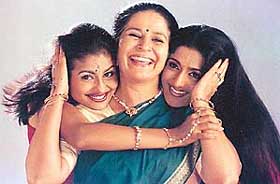 Suhasini Mulay with co-stars in Virasaat:
Motherly roles
"Itís surprising that an actress of her talent is getting recognition so late in her career," says Mrinal Sen, the doyen of Bengali cinema who first cast Suhasini Mulay in 1969 in Bhuvan Shome, one of the most path-breaking films of the past half a decade.
The then 16-year-old Mulay went on to win a national award for her powerful performance. She had to wait for an unbelievable 30 years before she could display her immense talent in Gulzarís Hu Tu Tu which too fetched her the National Award.
Since then, Suhasini Mulay has become a much in-demand actress and has been seen as Aamir Khanís mother in Lagaan and Akshay Khannaís mother in Dil Chahata Hai and Bobby Deolís grandmother in Humraaz.
Besides, she has started accepting roles on the small screen and is doing Puja Ka Ghar on Zee TV and Virasaat on Sahara.
But, by the look of things sheís headed exactly that way. And unless a gifted writer like Gulzar, Javed Akhtar or Ashutosh Gowalikar comes up with some bright ideas, she has no choice but to accept the mother of all roles!
Freaks
Exceptional, extraordinary and extravagant ó some people, events and places are truly outrageous. What drives a man to live in a room with 2,800 spiders and 80 scorpions? Have Yale University students created the first all-robot football team? How many packs of chewing gum does it take to build miniature sculptures?
Discovery Channel takes viewers on a global search for the most unconventional experiences on the planet with Eccentriks airing Sundays at 11 p.m.
Truck decorators, insect eaters, party lovers, snake charmers, crazy inventors, noteworthy sportsmen and others display their skills, talents and moderate nuttiness for viewers.
Each episode consists of five reports ó festivals and events, culture and trends, humans and animals, strange and nuts and science and nature ó taking viewers on a global journey of discovery, laughter and awe-inspiring creativity.
Donít miss this chance to visit the amazing world of curious and bizarre activities featuring people who are teetering on the edge of genius and madness.
Eccentriks: Quaintly decorated truck..
ó Mukesh Khosla