Monday, November 25, 2002, Chandigarh, India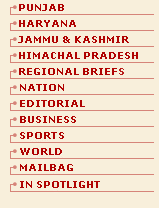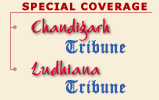 B U S I N E S S
Y O U R M O N E Y
A GUIDE TO PERSONAL FINANCE
Multi-level marketing writes new rules of retailing
The breath-taking success of the companies like Amway India, Oriflame India and Tupperware India in direct selling and multi-level marketing, has changed the paradigms of Indian consumer market.

Direct selling

Extent of operations

Fake firms in business

Doubtful players

RBI's opinion
PREPARING FOR RETIREMENT
Needs and options for pension planning
Social changes in India coupled with the lack of a social security system is fast multiplying the number of people in the country who are strongly feeling the need for a safe post-retirement income. The growing insecurity among the Indian middle class stems from several facts such as the growing insecurities both at work and at home, emergence of nuclear families and its fallout, rising trend of seeking an early retirement and intensifying health risks.


| | | |
| --- | --- | --- |
| | MARKET UPDATE | |
Correction seems imminent
All around buying in IT, telecom, automobiles, banking, steel and cement lifted the 30-share Bombay Stock Exchange Sensex by 107.70 points at 3,141.61. The S&P Nifty rose by 29.80 points to close at 1,020.15.
Infosys

L&T

Shipping Corpn
India has strong fundamentals: Jalan
November 24, 2002
Daewoo Motors up for sale
November 23, 2002
Report to spur growth: Kelkar
November 22, 2002
Fiscal deficit 'under control'
November 21, 2002
VSNL ends row with BSNL, MTNL
November 20, 2002
Maruti, Hyundai car sales rev up
November 19, 2002
UT Rent Act: tenants need not worry
November 18, 2002
No PNB shares to NBL shareholders
November 17, 2002
Kelkar justifies taxing agriculture
November 16, 2002
VAT Bill in winter session: Jaswant
November 15, 2002
Tax structure not competitive: Narayan
November 14, 2002