Says Bhandarkar, "My date for the release of Satta is now December 27, and that's final. I wanted to go into January to avoid getting crushed in the rush. But I want to be eligible for the popular awards for 2002."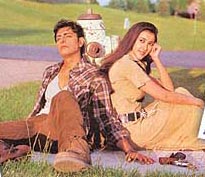 To escape the mad scramble for a post-Id release, Anubhav Sinha has put off the release of his Aapko pehle Bhi Kahin Dekha Hai to January
Suneel Darshan also confirms that his film is no longer being released on December 6, as scheduled. "But it's definitely on in December, probably December 20," he confirms from South Africa, where he's shooting with Akshay Kumar, Priyanka Chopra and Lara Dutta for his posh production Andaz which Raj Kanwar is directing. Suneel 's brother Dharamesh is also in South Africa working on the script that he's going to shoot from December onwards for producer Boney Kapoor with Anil Kapoor, Akshay Kumar, Sunil Shetty, Kareena Kapoor, Priyanka Chopra and one more heroine opposite Anil.
That leaves the decks clear on December 6 for Indra Kumar's father-son tearjerker Rishtey, Harry Baweja's love triangle Karz: The Burden Of Truth and the long-awaited Kaante. The release of the first two depends entirely on the third. If Gupta's Amitabh Bachchan-Sanjay Dutt-Sunil Shetty-Kumar Gaurav-Lucky Ali-Mahesh Manjrekar thriller is finally released on December 6, then the other two films will in all likelihood be held back.
But the question is, held back for how long? All the pending films are in a frantic hurry to beat the World Cup Series fever that would keep the entire nation glued to the television sets in February. The backlog of biggies must be cleared before that.
Anubhav Sinha's adaptation of Meet The Parents—Aapko Pehle Bhi Kahin Dekha Hai —has already been pushed ahead by a month from December to January. "I don't want my small film to be crushed under the steamrollers that are rolling out of Bollywood," Sinha reveals.
Before the World Cup begins, producers intend to bring on at least 25 big. Seven of them, including Sanjay Khan's son Zayed's debut Chura Liya Haim Tumne, Raj Babbar's daughter Juhi's debut Kaash Aap Hamare Hote and Guddu Dhanoa's Sunny-Tabu bone-cruncher Jaal-The Trap are scheduled for January 10.
Anil Sharma's post-Gadar opus The Hero (featuring of course Sunny Deol), Aishwarya Rai's post-Devdas musical Dil Ka Rishta, Feroz Khan's Fardeen-Celina Jaitley action story Jaanasheen and Ekta Kapoor's Tusshar-starrer Kuch To Hai and Boney Kapoor 's Kareena Kapoor-Fardeen romantic caper Khushi have also been confirmed for January.
Would the already-sagging box office be able to bear the burden of all these overblown biggies heaped one on top of the other? Or would better sense prevail on the trade? The most sensible option would be to hold back some of these releases for until after the World Cup when the moviegoers would be eager to return to theatres after two weeks of home-viewing confinement. INFS