"The story cuts across age barriers as it explores the sensitive bonds between children and their foster parents," says Sahara TV's Priya Raj and adds, "Viewers will love the offbeat storyline."
Kahin To Milenge does start on a promising note. But the trouble with soaps from the Balaji stable is that after a few episodes they all start looking suspiciously similar. That's when a sense of deja vu sets in. One just hopes this one doesn't fall in the present pattern.
Ruby shines again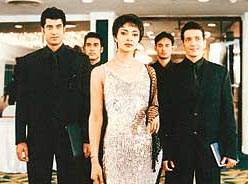 Ruby in Kasauti Zindagi Kay: The bubble's back
She stood at silly point while hosting Cricket Masala on Max TV. In fact, diehard cricket fans threw up their hands in despair as Ruby Bhatia reduced the game to mindless segments like What's Hot, What's Not and Kiska Band Bajega.
Now Ruby is back but this time on more familiar ground. She stars in Ekta Kapoor's Kasauti Zindagi Kay, Star Plus Mondays to Thursdays 8.30 p.m. The former VJ looks every part of her role of a cosmetic czarina and renders a stirring performance.
In a way, Ruby has come as a whiff of fresh air in a soap which was being beset with ennui. Her bubbly presence has perked things up in this emotional saga of love and revenge involving two large families who are closely interwoven by fate and destiny.
After Kasauti Zindagi Kay Ruby is being offered more such cameos. And not surprisingly, the bubble and verve is fast coming back as she puts all her skills in a soap that she knows could have a significant impact on her future.
Hero No 1
Fate can play pleasant tricks on people. A couple of years ago, little could Vijay Raaz have imagined that a single role would turn his fortunes so decisively. Ever since he played Dubey in Mira Nair's Monsoon Wedding, this struggling actor has become a sought-after star on the small screen.
His new serial Papa Ban Gaye Hero every Monday at 8.30 p.m. on Sony Entertainment Television, has opened high on the popularity ratings.
The comedy revolves around Gopal (Vijay Raaz) and his bossy wife Komal (Mandira Bedi) and their kids. By a quick of fate, Gopal is selected to do an ad campaign for Tito Banian. The ad is a hit and Gopal's posters are pasted all over the city.
His wife cannot cope with the sudden turn of events and starts flaunting her newfound status. She tells people that her husband has become a big star. Nobody, of course believes her. Till the time he lands a big role in a new film. And then starts the fun.
Besides a quality script there are all round good performances, especially from veteran Dara Singh, who plays a sterling cameo in this watchable comedy.
Candid revelations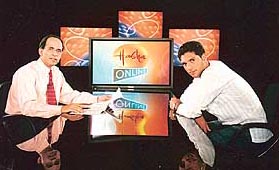 Yuvraj on Harsha Online: Viewers' delight
Along with Sehwag and Kaif, he is being touted as the future of the game. Whether batting, bowling or fielding he's a stirring cricketer to watch and has the ability to single-handedly wrest the advantage from the opposition.
Yuvraj Singh's real life too has been eventful as he recently revealed on Harsha Online on ESPN. That's because as a teenager he had a life outside cricket as well. In a straight-from-the-hip performance he revealed to his surprised fans that as a kid he acted in two Punjabi films, which is why modelling comes easy to him these days.
Interestingly, as a teenager his first love was not cricket but skating. He could skate the whole day and was also honoured by the Governor with a gold medal. But father Yograj Singh, also a cricketer in his time, was not impressed. Says Yuvraj, "He threw the medal away and threatened to break my legs if I didn't get serious about cricket."
The threat worked. Yuvraj began training in right earnest coaching under Bishen Bedi and in the Vengsarkar Academy in Mumbai to first feature in the Under-14, under-17, under-19 and finally the India team. The rest, as the cliche goes, is cricketing history.
Survival instinct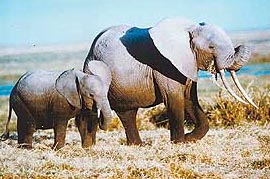 Wild and Young: Spectacular series
In the animal world, reproduction is the single driving instinct in life. Animals are innately programmed to mate, produce offspring and ensure the survivals of those offsprings. As a result, complex, and often astonishing, behaviour has developed in every species on land, sea and air to nurture and provide for their young.
Animal Planet's premiere series Young and Wild every Monday at 5.30 p.m. reveals those behaviours with amazing clarity.
Each episode takes viewers through the lives of baby animals, from their first breath to the day that they must leave their mother to survive on their own.
Filmed on location in Africa, Young and Wild explores the exotic, bizarre and intriguing measures used by various species to keep their genes alive. Viewers witness real stories of newborn creatures as they face challenges in their young lives.
The hallmark is the breathtaking photography and the series is a special treat for wildlife enthusiasts.
— Mukesh Khosla