'I have tried not to be typecast in any particular image,' he asserts. 'I have made a conscious decision to only do films that are different from those I have already done. But maybe because of my age and appearance I am offered roles that have a romantic angle to it.'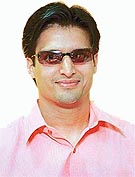 What is so special about Kehtaa Hai Dil Baar Baar? 'Of course, my role,' he insists. 'I play this guy who runs a restaurant, sort of cafeteria-on-wheels. He dreams of finding this girl whose love will make his world go on a spin. And he does spot such a girl. And every time he sees her he runs after her, trying to talk to her. And when he does win the girl over, he has to convince her father that he is the right guy for his daughter.'
'Apart from the role,' Jimmy goes on, 'there were other attractions. I got an opportunity to work with an actor like Paresh Rawal who is so incredibly talented. The film was shot in a single schedule in America. The producer was so organised that doing the film was a pleasurable experience.'
Jimmy Shergill first made his presence felt in Gulzar's highly acclaimed film, Maachis, where he played a recalcitrant youth who takes to terrorism.
Jimmy is now looking forward to Haasil, directed by Tigmanshu Dhulia, a one-time assistant to Shekhar Kapur. It's a love story set against the backdrop of campus politics.
'Tigmanshu is a director to watch out for. He is very perceptive. After Haasil he will be counted among the best in our industry,' Jimmy asserts. 'Haasil again is an unconventional film. It is the story of this boy in college who gets involved in college politics and is then forced to take on the bigwigs in society.'
An interesting aspect of Haasil is the climax shot during Kumbh Mela. 'It was an exhilarating experience,' says Jimmy, recalling an amusing incident that happened during the shoot. 'I had to hold Hrishitaa's hand and run through a crowd. Some people thought I was actually in trouble and was running away with the girl. After some initial commotion, we managed to pull of the shoot the way we wanted.'
Hrishitaa Bhatt, incidentally, was Jimmy's co-star in Dil Vil Pyaar Vyaar as well. 'Hrishitaa is a sweet girl and I am comfortable working with her. And we look good together on screen.' But he is quick to brush aside any suggestions that there is more to the pairing than meets the eye. 'Don't forget that I am a happily married man!'
Jimmy married his girlfriend of seven years, Priyanka, early this year. He is determined to confine films and his professional associations to the sets. 'I love acting and want to enjoy my vocation without mixing it with my personal life.'
We too hope it remains that way.
— Leisure Media News