Inspector continues to wear DSP's uniform
Amritsar, December 6
Left hand does not know what the right hand is doing, seems to be true in case of the border range police here. An Inspector, attached to the IG (Border) as a personal security officer (PSO) still wears the uniform of a DSP even as his ORP (own rank pay promotion) was withdrawn more than a year ago on the orders of the Punjab and Haryana High Court along with other officers.

Controversial police official Gurdyal Ram, who is a regular Inspector, receives a cup from Mr Jagjit Singh, Local Bodies Minister, on Independence Day at Amritsar. Mr Rajan Gupta, IG (Border Range), and then Deputy Commissioner S.S. Puri and Mr R. L. Bhatia, MP, look on.
— File photo by Rajiv Sharma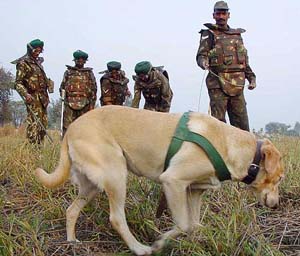 Army personnel with a bomb squad dog search for mines near the Indo-Pak border in Amritsar on Friday. — PTI
Education Dept officials drawing excess salary
Bathinda, December 6
Certain superintendents and administrative officers with District Education Offices in the state have been drawing excess salary. The Education Department has initiated an inquiry into the episode.
Only 5 PSUs to be privatised: Lal Singh
Jalandhar, December 6
The Finance Minister, Mr Lal Singh, today clarified that only five sick public sector undertakings (PSUs) of the 29 recommended by the Disinvestment Committee would be privatised.

Cong faction revolts against MLA
Phagwara, December 6
The political understanding between rival Congress factions headed by local MLA Joghinder Singh Mann and PPCC member Balbir Raja Sodhi received a jolt as the Sodhi group revolted against Mr Mann, accusing the latter of disobeying the party high command by changing its decision regarding the elections of the local Nagar Council last evening and striking a deal with opposition.
Stop Cong infighting, Sonia urged
Bathinda, December 6
Mr Gurbax Singh Bhasin, a senior Congress leader, has appealed to the All-India Congress chief, Mrs Sonia Gandhi, to intervene and stop the "fight" between the present Chief Minister, Capt Amarinder Singh and former Chief Minister Rajinder Kaur Bhattal.
10 persons fall ill as gas leaks in CMC
Ludhiana, December 6
At least 10 persons were taken ill in a gas leak incident at old CMC building here today. The injured included four women. All of them were being treated at CMC hospital.
Vir Chakra awardee remembered
Faridkot, December 6
The 31st death anniversary of Naik Naib Singh, a Vir Chakra awardee and hero of the Indo-Pak war, 1971, was observed at his native village Maln Wala in the district today. More than 5,000 persons including, panches and sarpanches, representatives of various political and social organisations and Mr Harinder Singh Chahal, SSP Faridkot, paid rich tributes and laid wreaths on the memorial of the martyr.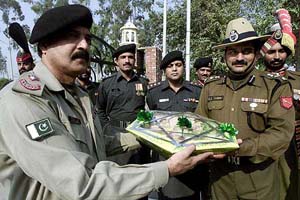 Pakistan's Lieut-Col Sher Zaman Dogher, left, presents sweets to his Indian counterpart Col D. K. Sharma at the Wagha border check point on Friday on the occasion of Id-ul-Fitr. AP/PTI
Takht can take action on firm proof: Vedanti
Amritsar, December 6
Akal Takht Jathedar Joginder Singh Vedanti today hinted that Akal Takht would not hesitate in taking action against the pro-Badal SGPC executive committee member Joginder Singh Panjrath if someone approached Akal Takht with a complaint along with facts.
Dalit families allege boycott
Malout, December 6
A major section of farmers of Khema Khera village in this subdivision of Muktsar district have boycotted six Dalit labourer families as they had allegedly failed to repay the loans they had taken from their landlords.
Malerkotla, December 6
More than one lakh Muslims performed namaz and greeted one another on the occasion of Id here today. Maulana Hashim Shah Shabib, Shahi Imam of the local Jama Masjid, led the namaz at the Idgah. Mr Pardeep Kumar Sabharwal, SDM, addressing a huge gathering at the Idgah, extended greetings and good wishes to people.



Children offer namaz on the occasion of Id at Khairud Masjid, which is more than a century old, in Amritsar on Friday. — PTI
Artificial leg to amputee's rescue
Patiala, December 6
Life has turned full circle for Satnam Singh, a retired bank manager whose legs had to be amputated three years back. After failing to get back on his legs through use of the conventional knee prosthesis system, an imported leg, known as endoskeleton prosthesis, has come to his rescue.
Improvement Trust flouts court order
Bathinda, December 6
Mr Atma Ram a resident of this city has alleged that a wall constructed by him on his land was demolished today by the Improvement Trust Authorities despite the trust authorities having been restrained by the competent authorities.
Minister's effigy burnt
Ropar, December 6
The Ropar Thermal Plant (RTP) unit of the General Category Welfare Federation burnt the effigy of Punjab Social Welfare Minister Chaudhary Santokh Singh at the main chowk of the plant last evening in protest against the interest taken by him in preparing a memorandum for the implementation of 85th Amendment of the Constitution and getting it signed from the Chief Minister, by passing official channels.
Rs 23.8 lakh for mast lights at roundabouts
Patiala, December 6
The Patiala Municipal Corporation in its Finance and Contracts Committee meeting today passed proposals for erecting high mast lights at all roundabouts in the city besides acquiring a loader truck to make the task for collecting garbage more easy.
Multi-crore complex site to be auctioned
Patiala, December 6
The Punjab Urban Planning and Development Authority (PUDA) today announced that it would hold auction for a 3.15- acre plot comprising the old Home Guard office on the Mall here on December 17 for development into a commercial facility in the form of cineplex, shops, offices and hotels.
TRIBUNE IMPACT
MC launches drive against encroachments
Patiala, December 6
The Municipal Corporation today carried out an anti-encroachment drive targeting temporary encroachments by various food shops as well as rehris. The drive, which was headed by corporation Assistant Commissioner Bhupinder Singh covered the area from Sheranwala Gate to Adalat Bazar, the bus stand to Lahori Gate, the Commissioner's office as well as the railway crossing No 22 market.


Couple, BSF jawan's wife killed
Hoshiarpur, December 6
Mr Shanker Dass son of Mr Rulda Ram and his wife Mrs Tarsem Kaur died on the spot when four/five unidentified persons suspected to be members of Kale Kacchewale gang attacked them with sharp-edged weapons, iron rods and lathis in their house in Mand Bhandair village under Dasuya police station at 4 a.m. this morning.
Gang of cheats busted, 2 held
Gurdaspur, December 6
The police has busted a gang of cheats involved in defrauding people with the arrest of two persons. Mr Varinder Kumar, SSP, said today that Satnam Singh of Dhariwal and Sunil Kumar alias Lattu of Pathankot had been arrested while the kingpin of the gang, Raman Kumar of Dhariwal, and his brother Sheroo were at large.
Man with fake visa booked
Amritsar, December 6
The district police has booked Ajit Singh, a resident of Kapurthala, for allegedly possessing a fake visa at Raja Sansi airport. He had come from Germany.
One more held in misappropriation case
Mansa, December 6
The economic offences wing, Mansa, has arrested Sukhdev Singh Dayallpura, chairman of the Mansa Central Cooperative Bank Limited, Mansa, in connection with a case registered against him under Sections 420 and 463 of the Indian Penal Code, read with Sections 7 and 12 of the Prevention of Corruption Act, 1988.
Man held for selling Mizoram lottery tickets
Bathinda, December 6
Vikas, lottery ticket vendor, was arrested on Wednesday for his alleged involvement in the sale of lottery tickets of Mizoram, in violation of a ban imposed by the Punjab Government in this regard.


PTU to review contracts
Jalandhar, December 6
With an aim to safeguard the interests of nearly 30,000 students enrolled in various courses under the Distance Education Programme (DEP) throughout the country, Punjab Technical University (PTU) has set up a three-member task force to review the contracts with its existing service providers responsible for providing education through affiliated study centres.
'Quality education must for children'
Fatehgarh Sahib, December 6
If we provide quality education and give encouragement to our children to participate in sports and other extra-curricular activities only then the spirit of competition and sense of confidence can be developed among them, otherwise our coming generations will lag behind in the present age of computers, space and competition and they will be able to compete at the national and international level, said Dr Gurmohan Singh Walia, educationist and Principal of MG College, Fatehgarh Sahib, while presiding over the annual prize distribution function of Sacred Heart Public School Sadhugarh- Fatehgarh Sahib today.
B.Tech (Electronics) exams postponed
Amritsar, December 6
Guru Nanak Dev University today postponed the examination of B.Tech (Electronics) here today to avert further clashes of the warring student groups. Earlier, a student belonging to one of the group's was allegedly thrown from the balcony of the Sahibzada Jujhar Singh hostel.
Students informed of traffic rules
Bathinda, December 6
Students of various schools were educated about traffic rules at the traffic park at Rose Garden today. Mr Sham Sunder Juneja, founder in-charge of the Children's Traffic Park, Ludhiana, said training the students in traffic rules was necessary.