Sunday, December 8, 2002
Lead Article
In the spotlight
Hawaiian honour for Aparna Sen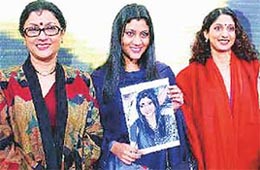 Reason to smile: Aparna Senís (extreme left) film Mr & Mrs Iyer has been named the best feature film at the recent Hawaii International Festival
IT's celebration time once again for Bengali director Aparna Sen. Her film Mr & Mrs Iyer, has been named as the best feature film at the Hawaii International Festival. Two decades ago, her film, 36 Chowringhee Lane had won the Kodak award for best cinematography in the same fest.
The Shashi Kapoor production was then hailed as a precursor to English language films made in India. Bringing an exclusive feminine sensibility, Aparna had translated on screen, the poignancy of old age as also post-modernist opportunism.
Aparna, the beady eyed Bengali who began her career as a child artiste in the legendary Satyajit Ray's Sampati, graduated to acting in Bengali films in the 60s. She won appreciation for her performances in Akash Kusum, Raag Anurag, Memsaheb Ekanto Apan, among others. In Hindi cinema she was noticed in Vishwas and Imaan Dharam.
The girl who grew up with the poetry of Swinburne and Wordsworth, turned storyteller with films like Sati, Picnic, Yuganto, Calcutta, The Undying City, Paromitr Ek Din and Paroma.