Sorcerers' den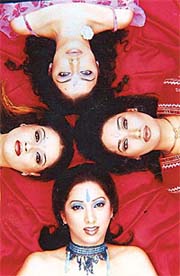 Kali Shakti: Web of witchcraft and black magic
Welcome to the world of weekend thrillers — Balaji Telefilms style. Kali Shakti, Friday to Sunday 8 p.m. on Sony Entertainment Television, is a series within a series. Part of Kya Hadsa kya Haqeeqat, the sub-series revolves around Avani and three other girls who are into occult, sorcery, witchcraft and black magic. Much like Harry Potter, Avani is unaware of the 'special talent' that she possesses but is drawn to the den of Shamma, Sameera and Varsha and soon becomes a sister in a blood pact. Each of the four girls, she is told, represents the four elements of fire, water, earth and air and are incomplete without one another.
But a series of queer events start unfolding that rapidly grow to horrific proportions. One of Avani's acquaintances has been murdered and no one has a clue who committed the grisly crime.
Suddenly, it dawns on her that it could be her blood sisters. And then she gets catapulted into a world of terror and deceit. A gripping series that would captivate you with its good performances.
Saans of life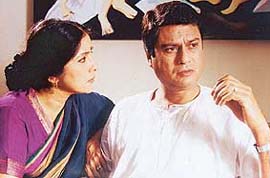 Neena and Kanwaljeet in Saans: Intense
It hasn't lost either its appeal even six years after it first appeared. Now Neena Gupta's Saans is back on Star Plus Mondays to Fridays at 4.30 p.m. TRPs intact.
The serial revolves around Priya (Neena Gupta), a woman in her mid-thirties trapped in a monotonous existence of children and household chores. Till her world comes crashing down when she discovers that her husband has another woman in his life.
As her life stagnates in this rut, she starts losing interest in everything. Her capabilities and talents are things of a dim past. The serial deals with relationships, weaknesses, strengths, happiness and sorrows of an ordinary woman.
Given her own background in personal life, the role of Priya fits Neena Gupta like a glove. And she is ably supported by Kanwaljit Singh and Kavita Kapoor. An eminently watchable serial even now.
Show stopper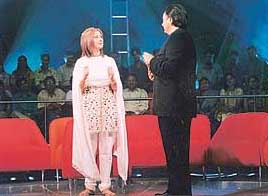 Jeena Isi Ka Naam Hai: Celebrity show in trouble
If the fate of Sab TV's Ramkhilavan C.M. & Family is to be decided by the courts, Zee TV's Jeena Isi Ka Naam Hai is said to be courting a different kind of trouble.
If recent reports are to be believed then the producers of the American celebrity show, This is Your Life from whom JIKNH has allegedly been 'inspired' are said to have sought a permanent injunction against the show.
The California-based producers have reportedly charged JIKNH of infringement of copyright laws even as their own show was awaiting approval from Indian authorities.
Sources at Zee TV and NDTV — which is producing the JIKNH — have hotly denied the charges and are said to be preparing for the legal battle. They say that there are many differences between the two shows and are confident of winning the case.
Which would be manna from heaven for Zee. For in Jeena Isi Ka Naam Hai the channel had recorded its first hit in months.
Talking tough

On television he may narrow his eyes and scare his victims into submission but in real life BBC World's Hard Talk man, Tim Sebestian comes out surprisingly amiable despite his towering height and a 'worrying' girth. He says he simply loves grilling the sweat out of people he interviews on his BBC talk show which has made him a celebrity himself. Some like him, many don't, but Sebestian's penchant for talking tough is now a part of BBC folklore.
Sebestian was in India recently for a very special mission — to be interviewed himself by some leading media figures such N. Ram in Bangalore, M.J. Akbar in Delhi and Anil Ambani, of Reliance Industries in Mumbai.
Jonathan Howlett of BBC World said, "With Hardtalk having completed more than 1000 episodes, this was a great opportunity for us to celebrate its success in India and also to say a big thank you to our key corporate advertisers." Which explains why Ambani interviewed the tough talker.
And would Sebestian like to interview Vajpayee or Advani?" Perhaps in the future. But right now I would like to interview just one Indian — Narendra Modi!" Will the Gujarat CM accept the challenge?
The world's a family
Forget everything you know about the human race. Incredible new genetic evidence, based on blood samples taken across the world over the past year shows that all humans alive today are descended from a single man who lived in Africa some 60,000 years ago. Each and every person on this planet is part of a connected family of man. We are all African, and our ancestors left Africa more recently than previously believed.
In Journey of Man, a new National Geographic Channel series premiering December 15 at 9 p.m. world renowned geneticist Dr Spencer Wells takes viewers on an astonishing genetic detective story that takes him around the globe to unlock clues.
Traversing six continents, the film takes viewers on a fascinating journey into the hidden world of their ancestry and offers a modern look at their lives.
Starting from Africa, Wells caps off his journey on the American continent. He sits with members of the Navajo tribe in Arizona comparing his DNA story of human ancestry. A fascinating end to a stunning series.
— Mukesh Khosla