THE TRIBUNE MAGAZINES
On alternate Mondays

On Sundays
On Saturdays

IN PASSING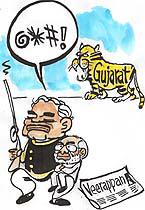 by Sandeep Joshi
Musharraf factor working for BJP
Ahmedabad, December 9
It appears that Mr Narendra Modi has developed "Mian Musharraf" mania. He has made "Mian" a central issue in the Gujarat Assembly elections.

GUJARAT DIARY: It's war on religious channels

3,000 fake voters in Jalalabad list
Jalalabad, December 9
Nearly 3,000 names in the revised electoral rolls of 15 wards of the local Municipal Council for its coming election, have been found to be fake during the two-day probe conducted by Mr Alok Shekhar, Director-General (Schools), Punjab.
Nagappa's funeral: mob turns violent
Kamagere, December 9
The police fired several rounds in the air and burst tear gas shells to quell a violent mob even as hundreds of people paid their last respects to former minister H. Nagappa, killed in the captivity of elusive brigand Veerappan.


In video: Karnataka Chief Minister S. M. Krishna says operations to nab Veerappan will be intensified. (28k, 56k)



In video: Supporters of H. Nagappa accuse Karnataka government of mishandling the kidnapping carried out by Veerappan. (28k, 56k)


Govt proposes joint front to arrest Veerappan


Editorial: Meeting the Veerappan threat


Nation page: Krishna government in crisis
Udasis are Sikhs, says SGPC chief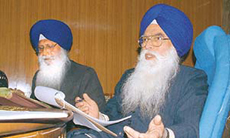 Amritsar, December 9
The Dharam Prachar Committee of the Shiromani Gurdwara Parbandhak Committee has declared that Nirmal and Udasi sects were an integral part of Sikhism.

SGPC chief Kirpal Singh Badungar addresses a meeting of the Dharam Prachar Committee in Amritsar on Monday.
— Photo Rajiv Sharma


Clemency will demoralise cops
Stillman had no language problem
Shimla, December 9
The grant of clemency to Ian Stillman, a British national who was sentenced to 10 years' imprisonment for drug trafficking last year, will have a demoralising effect on the police which has been engaged in a relentless crusade against the drug mafia involving foreigners in Kulu district.
BJP ropes in Mayawati
December 9, 2002
Vajpayee hits campaign trail
December 8, 2002
N-nexus exposes murky details
December 7, 2002
Ex-minister Lone's brother shot dead
December 6, 2002
Dismantle terrorist units, Putin asks Pak
December 5, 2002
Putin arrives to forge new axis
December 4, 2002
Setback for CBI in Bofors case
December 3, 2002
More temples may be targeted: PM
December 2, 2002
Advani dares Pak to fourth war
December 1, 2002
Ayodhya trial in Rae Bareily
November 30, 2002
50 ultras rearrested
November 29, 2002