Police Commissioner system not for now
Chandigarh, December 11
The issue of setting up the Police Commissioner system in three Municipal Corporation cities — Amritsar, Jalandhar, Ludhiana — was today put on hold. This was decided at a meeting held here today to discuss ''problems'' of the police and ''innovative'' ideas of policing.
PSEB engineers on warpath
Patiala, December 11
Engineers of the Punjab State Electricity Board today said they would pursue the issue of award of a power-supply contract to a private firm by holding a protest rally.
BSF pays homage to '71 war heroes
Mamdot, December 11
Keeping in view the onset of winter and foggy conditions, the BSF has intensified patrolling operations and launched special drives to thwart any attempt by anti-national elements and ISI agents to sneak into the Indian territory by taking advantage of inclement weather conditions.
Punjabi among top 10 languages of Canada
Chandigarh, December 11
Punjabi has emerged as the top non-official mother tongue in Abbotsford while it emerged as one of the top 10 non-official languages of Canada, the 2001 Census report of the country released yesterday said.
Heritage complex could have been designed better: architect
Chandigarh, December 11
The design of the multi-crore Khalsa Heritage Complex at Anandpur Sahib should have been handled with more subtlety to conform it with Sikh ethos, values, history and religion. A debate in this connection has been set in motion by Mr Gurpreet Singh, a young architect from New Delhi.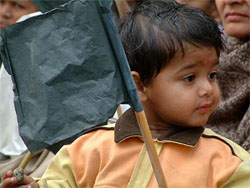 Home Guards' families protest
Amritsar, December 11
Holding banners and raising slogans against the Punjab Government and Chief Minister Amarinder Singh, hundreds of family members of Punjab Home Guard jawans today demonstrated at the Hall Gate here today. Families from the Patti and Ajnala tehsils, also protested along with them.
Family members of Punjab Home Guard jawans agitate at Amritsar.
— photo Rajiv Sharma


Girl saves kin from robbers


To be recommended for bravery award
Bathinda, December 11
Showing exemplary courage and presence of mind, a 14-year-old girl, Anubha Garg, saved three lives, apart from saving herself and her brother from armed dacoits who raided their house here last evening. Mr Ishwar Singh, SSP, said Anubha's name would be recommended for the National Bravery Award through the Deputy Commissioner, Mr Anurag Verma.
Mann flays 'rasta roko'
Phagwara, December 11
The SAD (A) President and Lok Sabha member Mr Simranjit Singh Mann, in a statement issued here today, flayed the 'rasta roko' call given by the Badal Dal for February 10, next year.
Non-Sikhs to head Youth SAD units
Ropar, December 11
In a significant move, the Youth Wing of the Shiromani Akali Dal has decided to appoint Hindu members of the party as presidents of the Youth Akali Dal's units of mandis (small towns) while restructuring the district units of the Youth Akali Dal in the first week of January next year.
Kanwaljit meets Kohar, Garcha
Jalandhar, December 11
The general secretary of the Shiromani Akali Dal, Capt Kanwaljit Singh, met the former Akali ministers, Mr Ajit Singh Kohar and Mr Jagdish Singh Garcha, at the Central Jail here yesterday.


Bid on Cong man's life: BJP councillor booked
Abohar, December 11
Senior BJP Councillor Satish Narang and five others have been booked by the city police under Sections 307, 323, 324, 148 and 149 of the IPC for alleged attempt on the life of a Congress activist Dev Raj Ahuja during the scrutiny of votes by a high-powered team headed by the Labour Commissioner, Mr Sanjay Kumar.
Anti-corruption panel honours honest officials
Fatehgarh Sahib, December 11
A campaign should be launched to control the menace of corruption, as public awareness is must because the government alone cannot succeed. If people strengthen their willpower and stop giving bribes the corruption would be automatically eradicated from society, said Mr B. Chandra Sekhar, SSP, while addressing a state-level function of the Anti Corruption Action Society, Punjab, here today.
4 of family die due to food poisoning
Thatha (Amritsar), December 11
Tragedy struck the house of a poor farmer, Major Singh, when four members of his family died here today due to food poisoning. The farmer was so disturbed that he started throwing stones at whosoever tried to visit him to express grief.
Snag hits overbridge project
Patiala, December 11
The much hyped Railway Crossing Number 22 Overbridge project has run into another snag with the Department of Telephones putting up a demand for an astronomical Rs 1.97 crore to relay its cables which are presently beneath the Railway Crossing area.
Firing by Mayor's guard: traffic blocked
Amritsar, December 11
People following the anti-encroachment drive launched by the Municipal Corporation, turned violent when the gunman of the Mayor, who went there to 'listen to their problem', fired into the air to disperse them, here today. The residents and kiosks' owners resorted road blockade which led disruption of traffic for more than three hours.
Phone numbers changed
Amritsar, December 11
The BSNL telephone numbers of Amritsar and Tarn Taran will be prefixed with 2 with effect from December 13. This was informed by Mr G.S. Garia, General Manager (Telcom), at a press conference here today. Earlier, digit 2 had been prefixed with telephone numbers of Rayya, Patti, Goindwal and Ajnala SDCAs.
3 dead, 10 hurt in accident
Nawanshahr, December 11
Three persons were killed and 10 injured as a bus and a tempo collided head on at Rahon bus-stand 7 km from here today at 9.30 a.m. According eye-witnesses, the bus (Janata Bus Service PB 09A-3851) and a three-wheeler collided when the bus driver tried to save a scooterist coming from the Jadla road.
HIGH COURT
Probe into demand for bribe ordered
Chandigarh, December 11
Taking up a petition alleging the demand of bribe by an Assistant Commissioner of Income Tax and two other officers for "not opening his case", a Division Bench of the Punjab and Haryana High Court today directed the Chief Commissioner of Income Tax to hold an inquiry into the petitioner's complaint in the matter.
Notice of motion

FCI under fire

Services rules
Sonia has lunch with Amarinder
Chandigarh, December 11
The hop-stop visit of the Congress President, Sonia Gandhi from Delhi to Himachal Pradesh and back via Chandigarh today had Punjab Congressmen and ministers rush to the airport here to catch the Madam's eye.
Minister's effigy burnt
Bathinda, December 11
Activists of the General Categories Welfare Federation, Punjab, took out a march to protest against the grant of quick promotions to employees of the reserved categories and also burnt an effigy of the Punjab Social Security and Welfare Minister, Mr Santokh Singh, here today.
Farm labourers lament joblessness
Bathinda, December 11
Farm labourers of the district on Tuesday staged a dharna near the office of the Additional Deputy Commissioner (Development) to show resentment against the policies of the state government that have rendered them jobless.
Dharna by killed woman's kin
Jalandhar, December 11
Relatives and members of family of Sonia, who was allegedly poisoned to death by her husband on Saturday night, sat on a dharna in front of the police station 7 for one hour against the role of some police officials for favouring the accused.
BSNL staff stage dharna
Hoshiarpur, December 11
Under the banner of National Federation of Telecom Employees, the BSNL employees posted here staged a dharna in front of the TRA office, here today to protest against the misbehaviour of Mr Varinder Kumar, son of Mr Gurbachan Dass, resident of the Bassi Datta Ram Bharwain road, Hoshiarpur, with the women staff of the TRA office yesterday.
M. S. Gill enrols as voter
Tarn Taran, December 11
Mr Mohinder Singh Gill, a former Chief Election Commissioner, has applied as a voter from his native village Aladinpur near here. His other family members have also applied for enrolment as voters.
Water supply disrupted for two days
Bathinda, December 11
Residents had a harrowing time as the water supply to parts of the city remained disrupted for the past two days. A cross-section of the residents contacted by The Tribune said that their taps had been dry for the past two days and they had to depend on water being sold in cans.


New traffic plan for holy city
Amritsar, December 11
The Deputy Commissioner, Mr Iqbal Singh Sidhu, yesterday unveiled a new traffic plan for the city. Addressing a meeting of officers of the district administration, police and municipal authorities, along with the representatives of transporters and traders, Mr Sidhu said the plan would be implemented after launching an awareness drive in this regard.
Submit report on fake votes, DC told
Gurdaspur, December 11
The State Election Commission has directed the Deputy Commissioner here to submit his report on the alleged irregularities in the enrolment of votes of the Nagar Council in wards number 3, 4, 8 and 9. The commission threatened to appoint an I.A.S. officer from the state headquarters if the district administration failed to submit the report by December 17.
Officials told to remove encroachments
Jalandhar, December 11
The district administration today warned officials, failing to comply with Supreme Court directions regarding the removal of encroachments from the government land on priority and for not taking measures to recover loans advanced by various government departments.
Ex-minister's house ransacked
Bathinda, December 11
Three miscreants ransacked the house of a former Punjab Minister, Late Mr Kasturi Lal, in the city yesterday at 5.30 p.m. Two of them managed to escape with some cash and valuables after injuring two family members. Sources said that the three men assaulted three women of the family as they refused to part with cash and valuables.
Dacoits injure 3; loot cash, jewellery
Pathankot, December 11
Sixteen suspected members of the kale kachhewale gang-struck the house of Mr Mohinder Singh on the Shahpur Kandi road and a poultry farm of Mr Gurdas Mal at Lamini early today and assaulted them with sharp-edged weapons and lathis.
Woman tricked, loses ornaments
Phagwara, December 11
Poonam of local Baba Balak Nath Mohalla was tricked into parting with her gold chain, a locket and the LPG documents by a fraud posing as an LIC official.
Excise inspector held for graft
Jalandhar, December 11
The Vigilance Bureau (VB) today arrested an excise and taxation inspector for demanding and accepting Rs 5000 as bribe from a businessman to process his application for the allotment of a licence.
2 cops get RI for smuggling liquor
Moga, December 11
Judicial Magistrate Tarsem Mangla here today sent two constables to one and a half years of rigorous imprisonment on the conviction of liquor smuggling.


School's annual function opens
Fatehgarh Sahib, December 11
The two-day annual function of Om Parkash Bansal Modren School, a premier institution of the area, started here today. Mr Hukam Chand Bansal, founder chairman of the school, presided over on the opening day of the function, whereas Mr Hari Jaisingh, Editor, The Tribune, would preside over the concluding day of the annual function tomorrow.
Students get prizes
Fatehgarh Sahib, December 11
Public schools and their managements can assist with the district administration in providing quality education in rural areas to the weaker sections of the society by giving concessions in school fee for them, said Mr Vikas Partap, Deputy Commissioner, Fatehgarh Sahib, while presiding over the annual prize distribution function of Mata Sundary Public School at Attewali village 2 km from here yesterday.
DAV school wins quiz
Amritsar, December 11
DAV Public School was adjudged the winner of the regional final round of the Limca Book of Records Quiz 2002 organised here yesterday. A press note said the first runners-up were Sacred Heart High School and second runners-up Holy Heart Presidency School.
Special chance for aspiring lecturers
Amritsar, December 11
Guru Nanak Dev University will grant a special chance to improve score at graduation level to those candidates who were otherwise eligible for lectureship at the postgraduate level and had cleared the UGC NET.