THE TRIBUNE MAGAZINES
On alternate Mondays

On Sundays
On Saturdays

IN PASSING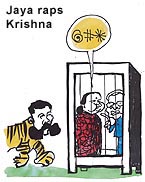 by Sandeep Joshi
Quattrochhi's extradition rejected
CBI appeals to Court of Appeals
New Delhi, December 13
Shocked and distressed over the Malaysian High Court's rejection of the Indian request for the extradition of Italian businessman and prime accused in the Bofors case, Ottavio Quattrochhi, the CBI has filed an appeal against it in the Court of Appeals, Kuala Lumpur, which is equivalent to India's Supreme Court.
Quattrocchi leaves a courtroom after his trial in Kuala Lumpur on Friday. — Reuters
Canal breached, several villages affected
Amritsar, December 13
Hundreds of acres of agricultural land was inundated under 5 ft deep water following a breach in the Kasur Branch near Tarn Taran this evening. Mr Narinder Bhargav, SSP, Tarn Taran, said senior police officials led by Mr Kewal Kumar, SP (Headquarters), had rushed to the spot.
'Bir' at British Library not authentic: Vedanti
Amritsar, December 13
After examining the 300-year-old 'bir' of the holy Guru Granth Sahib during his recent visit to the British Library, Giani Joginder Singh Vedanti, Jathedar, Akal Takht, concluded that it (the 'bir') was not an authentic one. He, however, described the claim as a "deep-rooted conspiracy" aimed at creating confusion in Sikhism.
15 killed as bus overturns
Siliguri, December 13
Fifteen persons were killed and 42 injured, five of them seriously, when a bus carrying them overturned at Rangamat on national highway 31 in West Bengal's Jalpaiguri district this morning, a senior police official said.
Yash Chopra to get Phalke award
New Delhi, December 13


The king of romantic cinema in Bollywood, Yash Chopra, is to receive the country's highest honour in cinema, the Dada Saheb Phalke Award, for 2001. The award carries a cash prize of Rs 2 lakh, a Shawl and a Swarna Kamal. It is expected to be presented by President A.P.J. Abdul Kalam
18 PTDC complexes for sale: CM
Patiala, December 13
Punjab Chief Minister Amarinder Singh today said 18 Punjab Tourism Development Corporation sites were available for sale to the private sector even as he announced that the state would facilitate making Punjab a tourist destination in active cooperation with private investers.
In Sports today

Heavy voter turnout in Gujarat
December 13, 2002
Day of reckoning for BJP, Cong
December 12, 2002
High-pitched campaign ends
December 11, 2002
HPCL, BPCL to go on the block
December 10, 2002
BJP ropes in Mayawati
December 9, 2002
Vajpayee hits campaign trail
December 8, 2002
N-nexus exposes murky details
December 7, 2002
Ex-minister Lone's brother shot dead
December 6, 2002
Dismantle terrorist units, Putin asks Pak
December 5, 2002
Putin arrives to forge new axis
December 4, 2002
Setback for CBI in Bofors case
December 3, 2002