Sunday, December 15, 2002, Chandigarh, India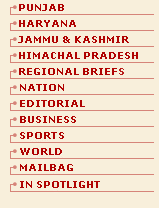 C A L E N D A R
Sunday, December 15, 2002
Vikrama Samvat
2059
Pousha
1
Shaka Samvat
1924
Margasheersha
24
Hijri
1423
Shavval
10

Margasheersha Shukla Paksha Ekadashi up to 6—3 p.m.
The eleventh lunar day of the bright half of Margasheersha.
Ashvini Nakshatra up to 9.48 p.m.
Ending of Bhadra at 6—3 p.m.
The sun enters Sagittarius at 6.45 a.m. (December 16)
Sankranti celebrations next day up to mid-day.
Mokshda Ekadashi
Geeta Jayanti
Matangi Jayanti
Vaikuntha Ekadashi
Sarvartha-siddhi yoga up to 9.48 p.m.