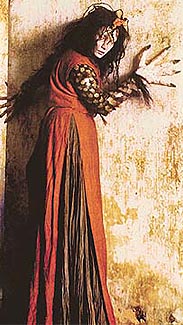 Shabana Azmi in the role of a witch is a major highlight of Makdee

Whom would you count as your favourite cricketer?
I have more than one hero. I adore Dilip Vengsarkar and Sunil Gavaskar. Brian Lara is also one of my favourites!
You have given the music for Gulzarís films Maachis and Hu Tu Tu, while he has written the lyrics for your film Makdee. You seem to enjoy a rich association with Gulzar. Comment.
I canít elaborate on that. Itís a really good relationship. We vibe well at work and even otherwise. He has inspired me in every manner, right from the way he leads his life to making films, to writing poetry and short stories.
Shabana Azmi in the role of the witch seems to be one of the major highlights of Makdee. Was it difficult convincing her to play the part?
I narrated the story to her on the sets of Godmother. She liked it and immediately agreed to do it, and that too for free. She could probably foresee the meat that the role had.
Was she your first choice?
Yeah. She was my first and last choice.
How did Shabana cope with the elaborate make-up?
The audience wouldnít have enjoyed the film unless they believed that the witch was for real. And for that, the make-up had to look real and convincing. That is why we went in for heavy make-up, despite shortage of funds. Shabana sat through patiently for hours while each make-up was tried and tested on her.
With so many films for children abroad like the Harry Potter series and animation films, do you think the Indian market is lagging behind?
Hollywood makes so many childrenís films which are huge box-office successes even in India. So, itís not that we donít have the market for childrenís films in our country. We just donít make films for our kids.
What has been creatively more satisfying ó composing music or directing a film?
Both have been satisfying on different levels. Music is food for the soul, while film-making is the soul. As a film-maker you call the shots! I have already decided on my next project.
What are your passions, apart from music, film and cricket?
Nowadays, I play tennis too.
ó Leisure Media News