From petty thefts to heinous murders, she can tackle them all. But that's not all. Her family is not aware of her dual life. And it is the balancing of the two that makes her life — and the serial — a roller-coaster ride. Definitely worth a dekko!
Wanted, a pinch of spice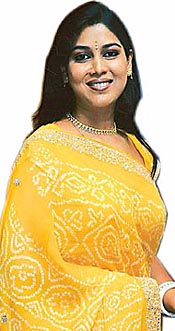 Sakshi Tanwar in Devi:
Goody-goody roles
People may hanker after goody-goody roles on TV but there are some who say enough is enough. Sakshi Tanwar is one of them. So tired is she of playing the woman with a pristine heart that she's consciously fishing around for spicy roles.
Parvati of Kahani Ghar Ghar Ki and the hostess of Gurukul, Sakshi is desperate to shatter the stereotypic image of an ideal bahu and honest-to-God anchor. "Nothing wrong with that," she says, "I just don't want to get typecast so early in my career."
But serial makers seem bent on casting her in sweet-n-candy roles. In Sony's Devi, Fridays at 9 p.m. she plays Gayatri, a vulnerable woman who has a touching in God Durga but is defenceless against her brutal husband.
"Even though it's a weepy role, it is very intense, I wouldn't have missed it for anything," says Sakshi justifying her selection. But she's quick to add she's very serious about her image makeover. For, she knows that in today's world nothing sells like glamour. It's the age of the spice girl!
Nari shakti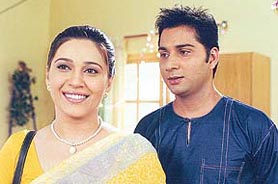 Aastitva: Triumphing over odds
It's an against-all-odds story of a woman doctor. And a true one at that. Aastitva Sunday to Wednesday at 8 p.m. on Zee TV is about a young ambitious girl Simran (Niki Aneja) whose aspiration to become a doctor is so strong that she even forgoes marriage as that would have interfered with her career.
She now has a nursing home of her own and though she is now 33, Simran has no regrets that she didn't marry. Till the time she meets 24-year-old Abhimanyu (Varun Vadola) brother of one of her patients. It's love at first sight and both marry against the wishes of their families.
But the euphoria is soon over and the difference in their ages catches up. To make matters worse, Simran is pregnant and Abhimanyu has no time for her as his own career is on the upswing.
Things come to such a flashpoint that Simran can't take it any longer. That's when she decides to re-build her original dream of becoming a successful doctor and entrepreneur. Will she succeed in her endeavour? Find out for yourself in this absorbing serial.
Tantalising vamps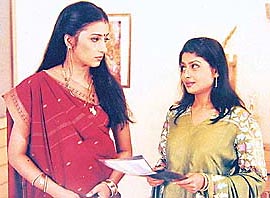 Tulsi & Payal in Kyunki Saas Bhi Kabhi Bahu Thi: Vamps on top
Move over Tulsis, Kkusums and Shaina Sikands, it's the era of the vamp. The exciting temptresses are the new movers and shakers on TV Pallavi of Kahani Ghar Ghar Ki. Komolika of Kasauti Zindagi Kay, Esha of Kkusum, Ramolla of Kahin Kissi Roz and leader of the pack, Payal Malhotra of Kyunki Saas Bhi Kabhi Bahu Thi.
For Jaya Bhattacharya the role of Payal in Kyunki Saas ... has paid off rich dividends. Offers have been rolling in but she's been saying no to most Payal look alike roles. In her other currently on serial Virasat she again plays a negative role, which she says is very different from her character in Kyunki Saas...
"I portray a dynamic, self-centred girl who makes her own decisions and lives by them. It's not completely negative. It has shades of grey."
Bollywood too has been making overtures to her. Though she played important cameos in Lajja and Devdas it is TV that's keeping her completely preoccupied. Not bad going for a lady who started her career in Basu Chaterjee's Gudgudi. Little did any one realise that she'd go on to become a top TV star one day.
Real-life robocops
Robotic bomb detectors and computerised surveillance systems — futuristic technology first seen in movies such as Mission Impossible and Minority Report is becoming reality in the world of modern-day crime prevention.
Discovery Channel introduces viewers to the real-life James Bonds and Robocops of the world with the one-hour special Technocops Sunday December 15 at 7 p.m.
In today's fast-paced, high-tech society, policing has become increasingly complex and has changed dramatically across the globe. State-of-the-art surveillance, monitoring and even weapons technologies are helping to ensure that, even in the largest and most densely populated cities, there is no place left to hide.
The show goes on the streets getting to know not only the technology of the job, but also the men and women who use and design it. It's more a crime thriller than a show about crime fighting gizmos.
— Mukesh Khosla