Sunday, December 15, 2002

Sunday Activity
Craft nifty gifts for festive season
Chetna Banerjee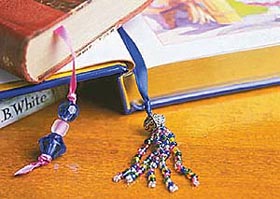 Adorn strips of old greeting cards with beads to make bookmarks
ONCE again, it's that time of the year when the holiday season is upon us and the New year is a breath away, when the mood is to soak in the balmy winter sun and bask in the warm company of our loved ones. It is a time to reaffirm our feelings for friends and family, to wish for renewed strength of existing bonds and to hope of forging sweeter and more meaningful ties in this forward-rotating cycle of living.
And what can be more endearing and heart-warming than a gift or token for kith and kin made with one's own hands, entwined with the thread of care and sealed with our love for them! As they say, it is the thought that counts. It is best to pour your caring thoughts into creating tokens of love and gratitude out of everyday, household objects, thus turning them into treasured memorabilia. Such knick-knacks will indeed be dear to those whom you gift them without costing a fortune!
Bookmarks from old cards: Cut coloured chart paper or old greeting cards into the size of a bookmark. Then reach out for any broken bead necklaces or bracelets you may have stored. Thread the funky coloured beads together with golden skeins and stitch them on to one edge of the bookmark. You can also stick glitter on to the bookmarks to add a touch of festive brightness. Parts of old cards with pictures of flowers can be recycled into bookmarks by embellishing them with satin ribbons or by sticking stars and metallic beads on them. Else, you can cut the craft paper into zany shapes of cartoon characters or in the shape of a pillar candle, a Christmas tree or star. To lend a Yuletide touch to it top it with a sprig of artificial holly leaves or little metallic stars.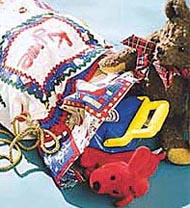 Convert pillow covers into sacks for Father Christmas
Christmas sack from old pillow cover: Lend your creative touch to turn an old pillow cover into a brand new Santa sack. All you need are a couple of satin ribbons, fancy coloured lace, a needle and thread and some fabric paints (optional). Hem a bright, frilly red lace on the edges of a white pillow cover. Dip into your fabric paints and make big jingling bells or a Santa face in the centre. Fold the open side of the cover about one inch inwards and hem it . Inserting a thick satin ribbon into it to close the sack. Append two-three tiny bells to the edge of the ribbons and embellish the sack with decorations that symbolise the X-mas or the New Year sentiments.